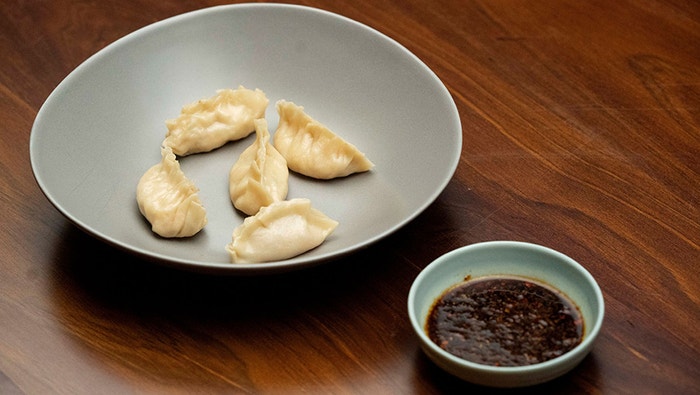 Steps
Bring a large wok half filled with water to the boil.
For the Spicy Sauce, combine the ingredients together in a bowl. Set aside.
For the Steamed Ginger Prawn Dumpling wrappers, place the flour in a medium bowl and make a well at the centre. Add 100ml water and mix by hand to bring together to form a rough dough. Turn the dough onto a floured surface and knead until dough is smooth and firm, about 5 minutes, adding more water or flour if required. Wrap in cling film and rest for 10 minutes.
For the filling, roughly chop half of the prawns and finely chop or mince the remaining half and place into a medium bowl. Add the remaining ingredients, season generously with salt and mix until well combined. Set aside in the fridge.
Sprinkle the rested dough with some flour and divide it into 2 portions. Roll each portion into a cylinder about 2cm in diameter. Cut each cylinder into about 1cm wide slices, approximately 6g in weight. Flatten dough with the palm of your hand and then using a dumpling rolling pin, roll each slice of dough into a circle 1mm thick. Set aside and keep covered with a clean tea towel.
Place 1 teaspoon Prawn Filling into the centre of each wrapper. Brush the outer edge with a little water. Fold the wrapper over the filling and pleat along one side and pressing onto the opposite side to form a crescent shape.
Line the bases of two large steamer baskets with baking paper and pierce holes over the paper. Arrange the dumplings on the paper without them touching. Stack the baskets and cover with the steamer lid. Place over wok of simmering water and steam until filling is cooked through, about 8-10 minutes.
To serve, place the dumplings onto a serving plate with the Spicy Sauce on the side.