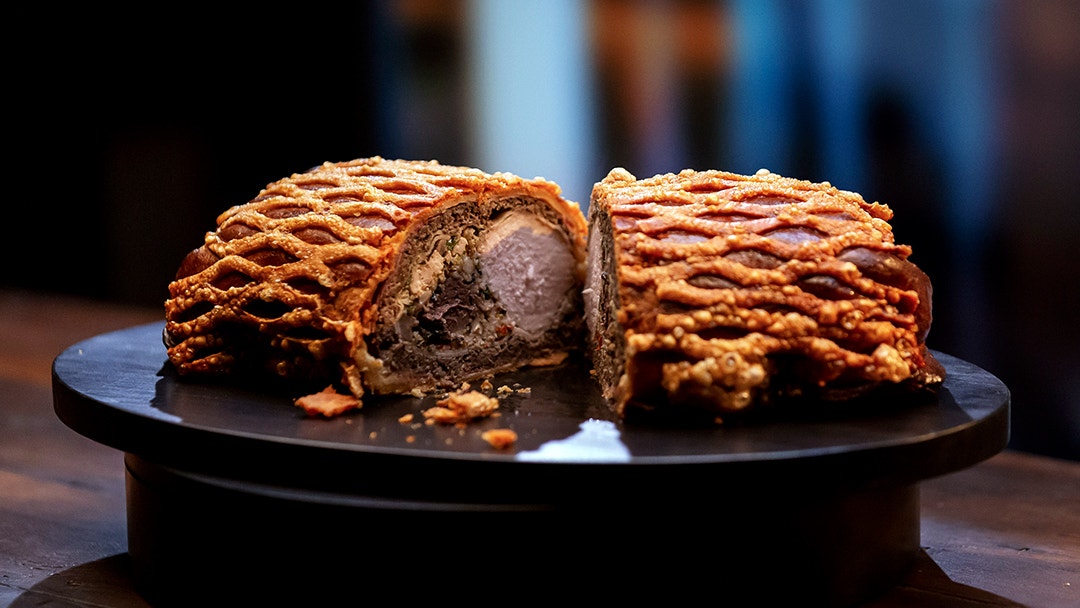 Ingredients
To Assemble Pork Wellington
Pickled Carrot and Daikon
Banh Mi Dressing (continued)
Steps
For the Spice Mix:
For the Spice Mix, preheat the oven to 160°C fan-forced.
Place cardamom, star anise, coriander, cumin, clove, fennel and peppercorns on a tray and toast in 160°C oven for 10 minutes or until aromatic. Set aside to cool slightly.
Transfer toasted spices to a mortar and pestle and pound to a fine powder.
Add cinnamon and Chinese five spice and mix through.
15g of Spice Mix is then added to the Pate and blended through.
For the recipe:
Preheat a combi oven to 100°C on steam setting.
Set the blast freezer to -40°C.
Heat the oil in a large frying pan over high heat.
Meanwhile, cut the loin in half lengthwise, leaving all the fat on one side. Discard the piece without the fat.
Trim the sides of the reserved piece into a rounded log, approximately 7cm wide. Use paper towel to pat dry.
Generously season loin with salt and pepper and roll to coat in seasoning.
When oil is smoking, add the seasoned loin and sear on all sides, rotating every 10 seconds until the pork is evenly caramelised.
Transfer pork to a tray and place uncovered in the fridge.
Place pork skin on a large tray, skin side up and season with salt. Cook pork skin in the combi oven at 100°C on steam setting for 35 minutes.
Remove tray of skin from the oven and turn over, skin side down. Set aside to cool slightly.
Place livers onto a paper towel lined tray and pat with extra paper towel to dry. Set aside.
Thinly slice onion and garlic.
In a medium stainless steel frying pan over medium heat, add ghee, onion and garlic and cook for 10 minutes or until softened and translucent.
Meanwhile, heat vegetable oil in another medium stainless steel frying pan over high heat. When oil is lightly smoking, add livers and sear for 1 minute each side or until golden brown. Transfer livers to the jug of a Thermomix and set aside.
Add shao xing and fish sauce to the onion and garlic and cook until liquid reduces to a thick glaze. Transfer all to a Thermomix jug.
Add spice mix to Thermomix jug.
Place Thermomix jug into the machine and blend on high speed for 2 minutes or until smooth, scraping the sides as needed.
Add xanthan gum and blend until emulsified.
Lay two 60cm long sheets of plastic wrap on top of each other, lengthwise on the bench. Place 200g of pate onto the bottom third of the plastic wrap. Fold the bottom of plastic over and press to seal, ensuring there are no air bubbles or plastic trapped inside.
Roll pate tightly into a firm 2cm thick log, ensuring the plastic wrap is not trapped inside. Tie the ends tightly so the pate remains in a firm log. Place log into the blast chiller for at least 45 minutes or until required.
Place 200g of remaining Pate in a small bowl and set aside for the Mushroom Duxelle. Discard any additional pate.
In a small food processor, combine shallot and garlic and process to finely chop, scraping the sides as needed.
Heat oil in a large non-stick frying pan over medium heat. Add mushrooms, shallot, garlic and salt and cook for 15-20 minutes, stirring frequently until all moisture has evaporated.
Add shao xing to the mushrooms and cook until evaporated.
In a medium bowl, combine 320g cooked mushrooms, 40g panko crumbs and 200g reserved pate and mix together. Set aside at room temperature. Discard remaining mushrooms.
Discard the stem of chilli. Quarter the chilli and shallot.
In a small food processor, finely chop chilli, shallot and garlic.
In a medium saucepan, combine chopped chilli mixture and vegetable oil. Cook over medium heat for 8-10 minutes, stirring occassionally until starting to caramelise slightly.
Meanwhile, combine remaining ingredients in a medium bowl and whisk, ensuring the kuzu starch is dissolved.
Add wet ingredients to the pan and bring to a simmer, cooking until sauce thickens. Remove pan from the heat.
Place 40g into one bowl and 265g into another. Set aside at room temperature and discard any remaining dressing.
Place the pork skin, skin side down at portrait orientation on a chopping board. Use a metal pastry card to carefully scrape off all the fat, leaving the skin intact. Discard the fat.
Trim the skin to square up to an approximate 16x28cm rectangle.
Whilst pressing firmly on a ruler, use a stanley knife to cut a lattice pattern in the skin. Start by cutting a row of 4cm vertical incisions down the length of the skin, with a 1cm gap between each incision. Repeat the row of incisions every 6mm across the skin. Every second row should begin with a 2cm incision so the new 4cm incisions sit beside the previously cut 1cm gaps and the skin stretches to open up. Set skin aside.
Increase combi oven to 200°C fan-forced.
Peel leaf from cha lua and discard. Dice cha lua into 5mm pieces and add to a large bowl.
Finely shred the black fungus and add to the bowl.
Cut spring onion into 4mm thick slices and add to the bowl.
Dice shallot into 5mm pieces and add to the bowl.
Cut chilli into 2mm thick slices and add to the bowl.
Roughly shred coriander leaves and stems and add to the bowl.
Finely chop garlic and lemongrass and add to the bowl.
Add remaining ingredients and mix well by hand until combined and slightly sticky. Cover with plastic wrap and place in the fridge.
Dice butter into 1cm pieces.
In a food processor, combine flour and butter and pulse to a fine sand consistency.
In a small bowl, combine remaining ingredients and whisk well.
Add the combined wet ingredients to the food processor and process until a dough forms.
Transfer dough to the bench and knead until smooth. Shape into an approximate 26cm square, 2cm thick.
Place dough in a vacuum bag. Use a cryovac machine to remove air and seal. Place dough in the fridge.
Lay two 60cm lengths of plastic wrap on top of each other, lengthwise on the bench. Lay two more 60cm lengths on top of each other and place above the previous, overlapping by at least 2cm.
Centred on the bottom edge, lay prosciutto slices vertically in a 30cm square, overlapping the slices by atleast 1.5cm.
Evenly spread Pate Duxelle mixture over the prosciutto, leaving a 2cm wide portion of uncovered prosciutto along the top edge. Place a sheet of plastic wrap over the duxelle and use a rolling pin to roll to 3-4mm thickness. Remove and discard plastic wrap.
Lay cha lua slices over the Duxelle, overlapping by 1cm and covering the entire 30cm square of prosciutto.
Place the pork loin in the centre of the bottom edge of cha lua, fat side facing up.
Shape 120g of the Meatball Mixture beside the loin in an approximate 8cm wide rectangle and the same length as the loin, approximately 1.5cm thick.
Remove Pate log from the blast freezer. Cut to 25cm length and remove from the plastic wrap. Discard plastic and offcuts.
Place Pate log on top of the shaped Meatball Mixture. Place remaining 330g Meatball Mixture on top and evenly shape around pate log so it encases in an approximate 1cm thick layer.
Using the plastic wrap for leverage, start from the bottom and roll everything into a tight cylinder, enclosing within the prosciutto. Ensure the plastic wrap is not tucked into the roll and note the location of the pork loin. Twist and tie the ends to firmly secure.
Place rolled meat in blast chiller for 10 minutes.
Remove dough from the plastic. Place on a lightly floured bench and roll to 3mm thickness. Trim to 40cm x 50cm rectangle, discarding offcuts. Place on bench at landscape orientation.
For the egg wash, combine yolk, oil and salt in a small bowl and whisk to combine.
Brush egg wash over the dough.
Unwrap the rolled meat from plastic wrap. Place rolled meat into the centre of dough and fold one side of the dough over, continuing to roll meat in dough to enclose. Manuerve log so dough seam sits underneath. Fold the ends in and press dough flat on bench to seal and enclose meat. Trim the pastry ends to 1cm, discarding excess dough.
Lift the log onto a large flat baking paper lined tray.
Dust off any excess flour. Brush egg wash over the surface of dough.
Lay the pork lattice, skin side up over top and rolled sides of the wellington, leaving the ends of the dough exposed.
Gently stretch the skin to open the lattice pattern and cover the log. Use bamboo skewers to secure the edges of the skin to the wellington.
Insert a probe thermometer into the end of the pork loin. Bake Wellington in 200°C combi oven for 30 minutes, leaving the probe in and the thermometer screen outside the oven.
After 30 minutes, reduce the oven to 180°C and bake for a further 15 minutes or until internal temperature of pork loin reaches 42-44°C.
Slice cucumber into 2mm thick rounds. You will need at least 28 slices.
In a medium bowl, combine sliced cucumber and salt and toss to coat each slice evenly with salt. Set aside at room temperature for 30 minutes.
Peel carrot and daikon. Use a mandolin to thinly slice into 10cm long sheets. Stack the sheets and julienne into 10cm lengths.
For the pickling liquid, combine vinegar, sugar, water and salt in a medium bowl and whisk to dissolve sugar and salt.
Place carrot and daikon in separate bowls. Divide the pickling liquid between bowls and toss through. Set aside at room temperature for 30 minutes.
Add ultra sperse to Dressing and whisk through. Set aside for 15 minutes.
Peel onions. Slice onion into 2mm thick rounds. You will need at least 28 slices.
Place onions in a small bowl and rinse in cold water. Cover onions with fresh water and set aside for 10 minutes. Repeat the rinsing and soaking once more.
In cannister of a stick blender, combine chilli oil solids, water, yolks, fish sauce, sugar and salt. Use a stick blender to combine.
Whilst blending, gradually pour a thin steady stream of oil into the cannister, blending to emulsify to a thick mayonnaise. Transfer Mayonnaise to a large squeeze bottle and place in fridge.
Place cucumbers in a colander and rinse in cold running water to remove salt. Drain cucumbers well and pat dry with paper towel. Place in a small glass bowl and set aside.
Press Dressing through a fine sieve into a medium bowl, discarding solids. Transfer gel to a small squeeze bottle and set aside at room temperature.
Drain onions and pat dry with paper towel. Place in a small glass bowl and set aside.
Drain carrot and daikon through separate fine sieves, discarding pickling liquid. Combine carrot and daikon in small glass bowl and toss together. Set aside.
When cooked to temperature, remove wellington from the oven and lift onto a wire rack, leaving the probe thermometer in the pork.
Remove and discard skewers from pork.
Generously spray pork skin with water. Place a clean wet tea towel over the lattice and set aside to rest. The resting temperature should reach 54-56°C.
Pick small sprigs of confetti coriander and carrot flowers. Place in a small glass bowl and set aside.
Place pork on a wire rack set over a commercial deep fryer. Carefully ladle hot oil over the pork until lattice has bubbled all over.
Place Wellington onto a paper towel lined tray to remove excess oil. Set aside.
Meanwhile, on 4 separate serving plates, use an 8.5cm ring mould to shape Pickled Daikon and Carrot, roughly 2cm thick, on one half of each of the 4 serving plates.
Twist Salted Cucumber slices and place on top of Pickled Carrot and Daikon.
Place 7 Onion Rings on top. Remove the metal rings.
Shake the bottles of Mayonnaise and Dressing. Pipe 7 dollops of each on top of stack.
Place 5-7 pieces of confetti coriander and 5-7 carrot flower on top of each stack of pickles.
Transfer Wellington to serving board.
Use a serrated knife to trim at least 5cm from one end of the pork loin.
Slice wellington into 2.5cm thick slices, using the serrated knife to carefully cut through the lattice crackling and a large sharp knife to slice the remainder of the way through.
Place one slice of Wellington flat on each plate beside the condiments.