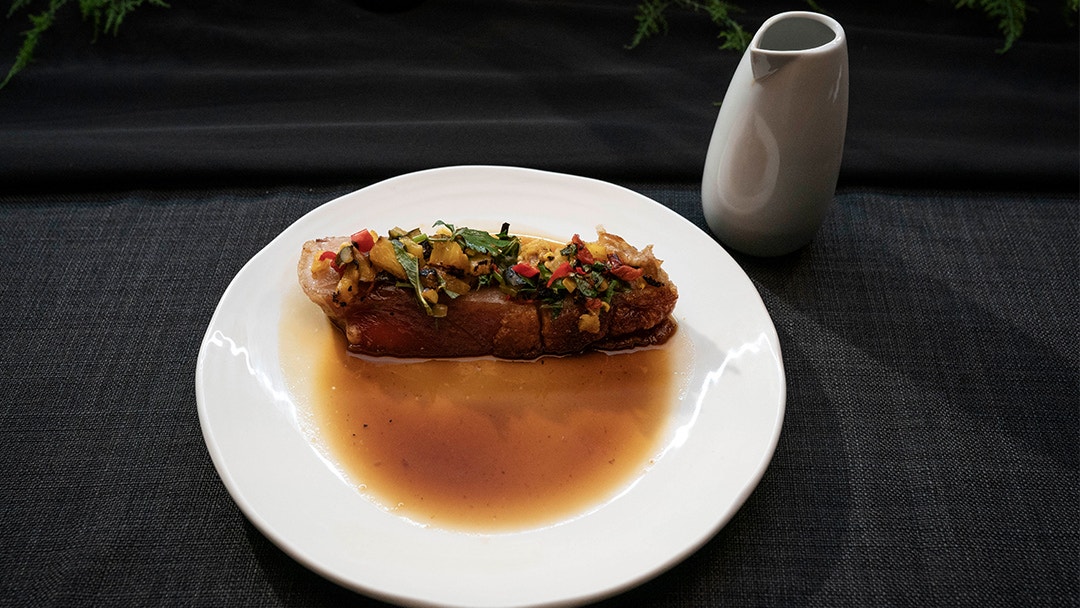 Steps
*Start recipe the night before.
For the Crispy Pork, place pork belly onto a plate and place into the fridge, uncovered, overnight, to dry out the skin.
Heat oven to 145°C.
Score skin of pork at 5mm intervals then rub with oil and salt. Place onto a large piece of foil and fold foil up and around to cover the flesh, leaving the skin uncovered.
Place into a shallow baking tray and bake for 2 hours.
Remove pork from the foil, return to the tray and increase oven to 230°C fan grill. Return pork to the middle or lowest shelf of the oven and cook until skin is crispy, taking care to avoid burning the skin. Remove from the oven and set aside to rest before carving into long slices to serve.
For the Pork Sauce, place a sauté pan over medium high heat. Add pork bones and wings and cook, turning often, until browned all over. Add onion and chillies and cook for 3-4 minutes.
Add turmeric, garlic, ginger, bay leaves, peppercorns, chilli powder and stir for 1-2 minutes.
Add chicken stock and water then stir to deglaze the pan. Bring to the boil then reduce the heat to medium and simmer for 40 -45 minutes or until reduced and thickened. Strain through a fine sieve into a small saucepan. Add sugar, suka pinakurat, fish sauce and soy sauce. Cover and set aside.
For the Salsa, heat a grill pan over medium high heat.
Place pineapple, corn, cucumber and chillies onto grill and cook until lightly charred. Remove from the heat. Discard chilli skin and cut flesh into 1cm dice. Dice pineapple and cucumber to 1cm and place into a bowl. Roughly chop the herb leaves and add to the bowl. Just before serving, add suka pinakurat, lime juice and salt and toss together.
To serve, place pork onto plates and top with salsa. Pour sauce onto plates and serve.