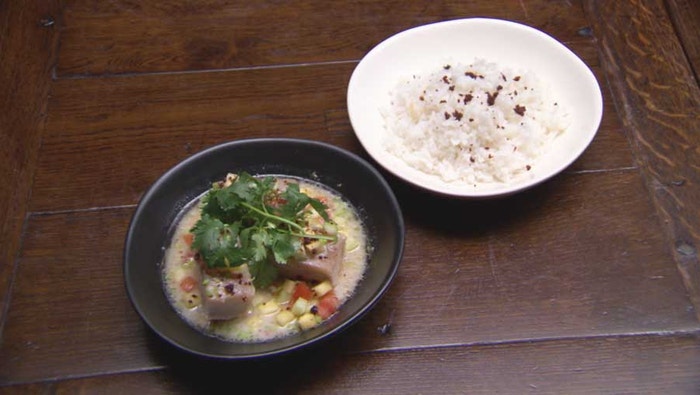 Steps
Place pork belly, garlic, chilli and lemon juice into a pressure cooker. Cover pork with just enough water to cover. Cook for 40 minutes on high pressure. Remove meat, reserving the broth, and transfer to a baking tray. Place flat tray on top of pork belly and weigh down to flatten, set aside.
To make coconut milk, place shredded coconut flesh into a bowl. Pour 3 cups of hot water over and let it sit for 5 minutes. Using a muslin lined strainer, strain the coconut and squeeze it to collect coconut milk in a clean bowl and set aside..
Place 1 cup of reserved coconut milk in a small pan and reduce until it starts to crack. The coconut curd should start to separate from the oil. Using a spatula, scrape the bottom of the pan to start frying and caramelising the curd. Once brown, remove from pan and set aside.
Rinse 2 cups of jasmine rice under cold water. Place rice in a large pan, add 2 cups of water and 1 stick of lemongrass and place over medium heat. Bring to a boil, reduce heat, cover and allow to simmer gently until water has absorbed. Add 1 cup reserved coconut milk and cook until rice is tender and all liquid has absorbed, about another 5 minutes. Remove from heat and set aside.
Place reserved broth and remaining coconut milk in a saucepan and reduce to half of the amount. Pound remaining lemongrass stick with a tablespoon of water and make a paste. Add the paste to the reduced broth and season to taste.
To assemble, slice pork into slices. Place pork into a flat bowl and pour over broth. Garnish with pineapple, cucumber, tomato and coriander. Serve with coconut rice, topped with caramelised coconut curd, on the side.