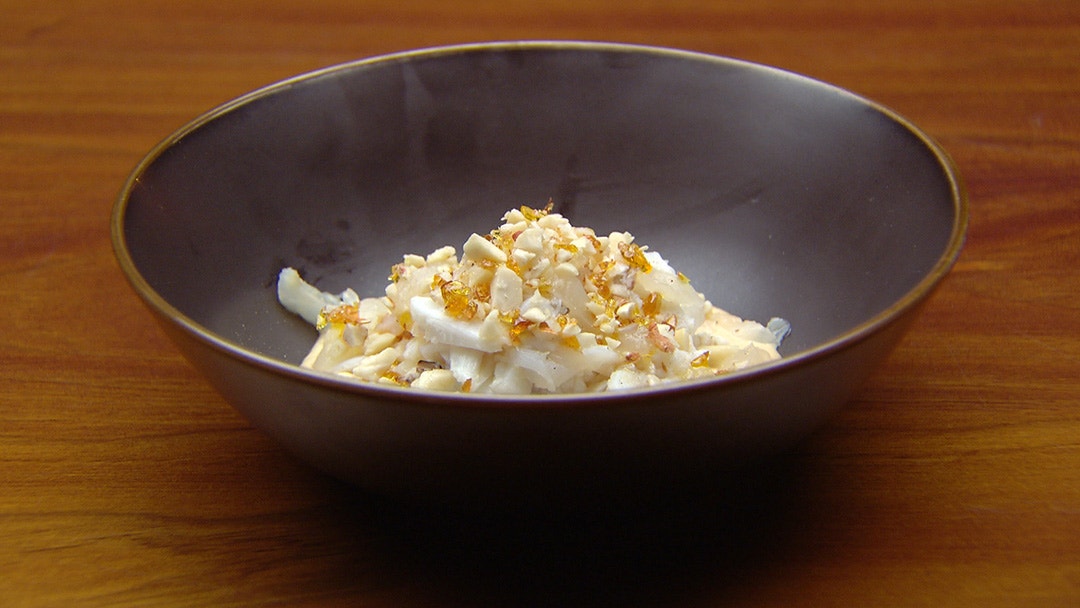 Ingredients
Poached Blue Swimmer Crab
Steps
Preheat oven to 160C. Bring a 5L stockpot of water to the boil. Prepare an ice bath in a large bowl.
For the Peanut Cream, place the peanuts onto a small tray and roast in the oven until golden, about 12 minutes. Remove from the oven, place into a clean tea towel and rub the peanuts to remove the skins.
Place 100g peeled peanuts along with the remaining ingredients into a small saucepan over medium heat. Reserve the remaining 80g peanuts for the praline.
Bring to the boil, remove from the heat and set aside for 20 minutes. Use a stick blender to process until smooth, adding more milk if needed to achieve a smooth soft consistency. Season to taste and set aside.
For the Poached Blue Swimmer Crab, place the crabs into the boiling water, return to the boil and cook for 6-7 minutes, depending on the side. Remove the crabs and place into the ice bath.
Once cool, break down the crabs and remove the flesh. Set aside in a small bowl.
For the Pickled Longans, place the vinegar, sugar, salt and 100ml water into a small saucepan over a medium heat. Bring to the boil then remove from the heat.
Add the longans and set aside to cool. Drain before serving.
For the Peanut Praline, place the reserved peeled peanuts onto a lined baking tray and set aside.
Place the sugar and 2 tablespoons water into a small frypan and place over medium heat. Stir to dissolve sugar and brush down the inside of the saucepan with a wet pastry brush. Cook until an amber coloured caramel forms. Remove from the heat and pour over the peanuts. Set side to cool then break into shards and place into a food processor. Process to a rough crumb and set aside.
To serve, spoon the Peanut Cream into the centre of each serving plate. Top with the Poached Blue Swimmer Crab, Pickled Longan and finish with sprinkle of Peanut Praline.
Notes
Simon's poached crab is paired with a roasted peanut cream and sweet and salty peanut praline.