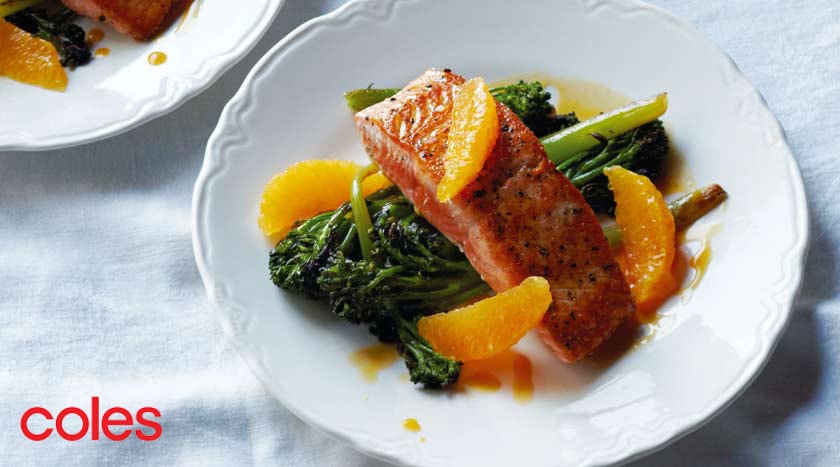 Steps
Cut off the tops and bottoms of 2 oranges. Using a large sharp knife, cut away the peel and white pith from the oranges, following the curve of the oranges from top to bottom. Holding one orange in your hand, and working over a bowl, make 2 cuts along the membranes on either side of a segment, then lift the segment out of the membranes and drop it into the bowl. Repeat to remove all the segments from both oranges. Set the segments aside. Squeeze the membranes over a small saucepan to release as much juice as possible and discard them; set the segments aside. Squeeze enough juice from the remaining 6 oranges to make about 2 cups total juice.
Place saucepan over medium heat for about 7-10 minutes, or until syrupy. Remove from the heat and cover with lid to keep warm.
Meanwhile, bring a medium saucepan of salted water to a boil over high heat. Add the baby broccoli and cook for about 2 minutes, or just until it is bright green and tender. Drain and transfer to a bowl of ice water to cool completely. Drain well and pat dry with a clean tea towel or paper towels.
Meanwhile, sprinkle the salmon fillets with salt and pepper. Heat a large heavy non-stick frying pan over medium-high heat. Add the olive oil, then add the salmon and cook, for 3 minutes, then turn over, and cook for a further 1-2 minutes for medium rare, or for a further minute until cooked to your liking. Transfer to a platter and let rest for 2 minutes.
Pour out excess oil from frying pan and place pan over medium-high heat. Add the baby broccoli, and cook for 1 minute, then add 1 tablespoon of the butter to the pan, swirling pan occasionally, for about 2-3 minutes, or until heated through. Season to taste with salt and pepper.
Divide the baby broccoli among four dinner plates and top with the salmon fillets. Garnish with the orange segments. Whisk the remaining butter into the orange juice reduction, adding any orange juice from bowl with segments, and season to taste with salt. Drizzle sauce over and around the salmon to serve.
Notes
BOOK REFERENCE: From What's For Dinner by Curtis Stone Copyright © Curtis Stone 2013 Appears with permission of Random House Australia All Rights Reserved RRP $39.95 by Ebury Press. Available now from booksellers and online retailers, and as an eBook.