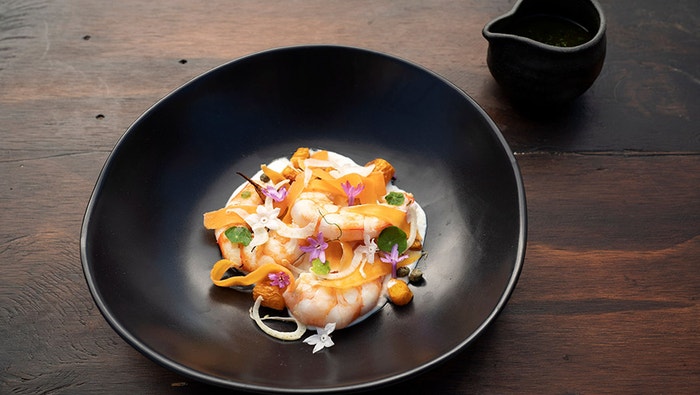 Steps
Preheat oven to 180C.
For the Roasted Carrots, place 6 carrots into a small roasting dish and drizzle with oil. Roast in the oven for 30 minutes, until golden and tender. Remove from the oven and slice the carrots into rounds. Set aside.
For the Pickled Carrots, place the vinegar, sugar and 80ml water into a medium bowl and stir to combine. Using a vegetable peeler, slice strips from the remaining 2 carrots and place into the pickling liquid. Set aside for 20 minutes, drain and set aside.
For the Labne, place ingredients into a medium bowl and mix gently to combine.
For the Chermoula, place ingredients into a food processor and process to a coarse paste. Set aside in the fridge.
For the Prawns, place the butter and oil into a large frypan. Season the prawns with salt and fry until golden and cooked through, about 2 minutes on each side.
To serve, place the Labne into the base of each serving bowl. Top with the Prawns, surround with some shaved fennel and Roasted and Pickled Carrots. Drizzle with Chermoula and garnish with capers, chive flowers and nasturtium leaves and petals.