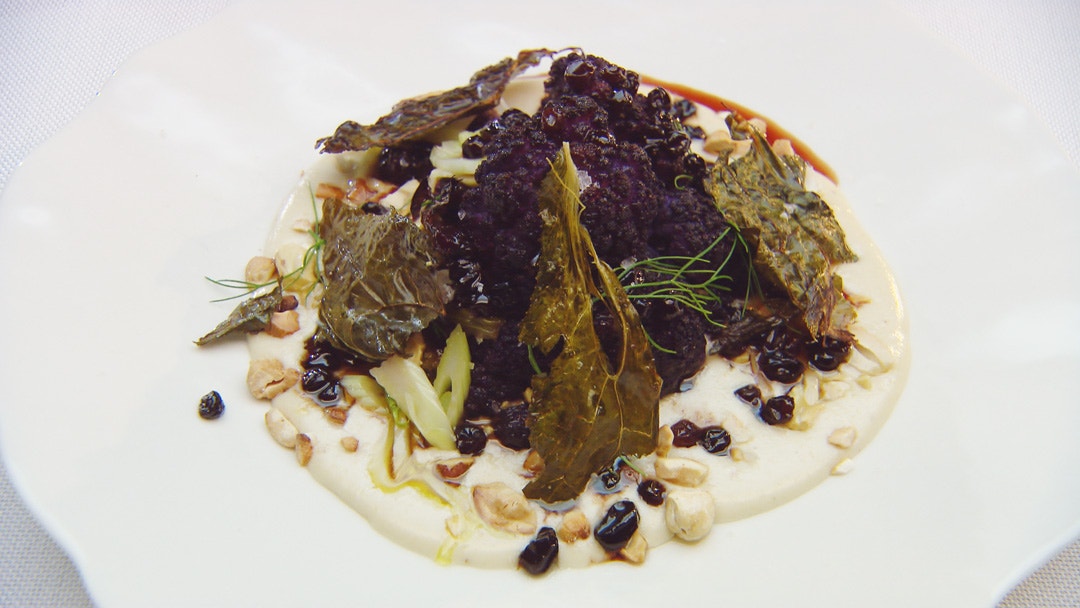 Steps
Preheat oven to 220C.
For the Roast Cauliflower, place ingredients, except cauliflower and butter, into a large saucepan and bring to the boil. Add the cauliflower and simmer until slightly soft but not cooked through, about 12-15 minutes. Drain well in a colander and place onto a baking tray.
Place the butter into a small saucepan and cook over medium heat until light golden brown in colour. Remove from the heat and set aside.
Brush cauliflower with brown butter and bake in the oven until golden, about 20 minutes. Remove from the oven and set aside.
For the Cashew Cream, place the cashews onto a tray and roast in the oven until dark golden. Transfer cashews onto a second tray and place into the freezer until cold, about 10-15 minutes. Reserve 50g for garnish.
Place remaining cashews into a blender with water, 4 ice cubes, lemon juice and a generous pinch of salt.
Puree to a paste then slowly add the oil. Add a few more cubes of ice to keep paste cold and continue to process until oil has been added and mixture is smooth. Season to taste and set aside.
For the Agrodolce, place the oil into a frypan and heat to 160C. Add the currants and fry until dark in colour and plumped, about 2 minutes.
Add vinegar. Reduce heat to low and simmer until mixture has become oily and jammy, about 12-15 minutes.
For the Cauliflower Leaves, spread leaves over on a tray, spray lightly with oil and sprinkle with a little salt.
Roast in the oven until crisp, about 10-15 minutes.
To serve, spoon a round of Cashew Cream into each serving bowl. Top with Roasted Cauliflower, reserved cashews and fresh fennel fronds. Spoon Agrodolce generously over the top and finish with the Cauliflower leaves.