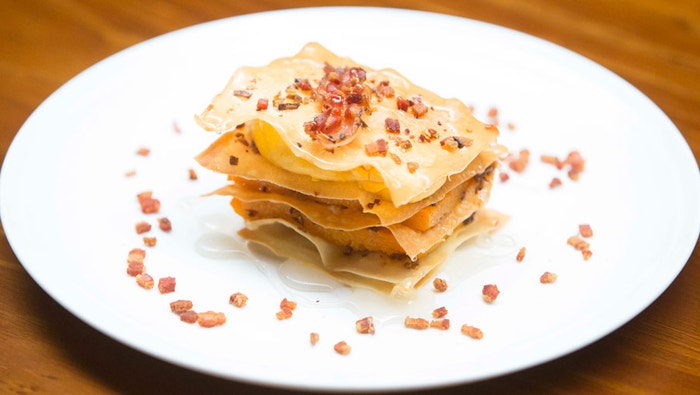 Steps
Preheat oven to 180C.
For the Filo Pastry, place flour and salt into a large bowl, mix together then make a well in the centre. Gradually add 35ml water and bring together to form a soft dough. Turn dough onto a lightly floured surface and briefly knead into a smooth ball. Place into a lightly oiled bowl and cover with cling wrap. Set aside to rest for 20 minutes.
Remove dough from bowl and divide into 4 portions. Flatten out one piece of dough into a rectangular shape and pass through pasta machine, moving from the thickest to the thinnest setting between each pass. Lay on a paper lined baking tray and brush with melted butter. Repeat process with remaining dough, brushing each piece with butter. Cut into 20 rectangles. Sprinkle with chopped chestnuts and place onto a baking tray lined with baking paper. Bake until golden, about 10-12 minutes. Remove from oven and set aside.
For the Pumpkin Two Ways, cut eight 5mm thick slices pumpkin into rectangles slightly smaller than the filo pastry pieces. Reserve remaining pumpkin for the puree. Place pumpkin slices onto a large sheet of aluminium foil. Drizzle with grapeseed oil then sprinkle with ½ of the cumin seeds, salt and pepper and wrap up tightly in aluminium foil. Place onto a baking tray and bake in the oven until tender, about 20 minutes. Unwrap slightly and set aside to cool.
Heat a large frypan over high heat. Add diced pancetta and fry until crisp. Remove from pan and drain on paper towel. Add pancetta slices to the pan and cook until crisp and golden. Set aside on paper towel with to drain until required.
Cut remaining reserved pumpkin into 1cm cubes and place into a small saucepan with milk and bring to the boil. Once boiling, reduce heat and simmer, covered, until soft, about 15-20 minutes. Drain off most of the milk and add cream, remaining ½ teaspoon cumin seeds, feta and half of the fried diced pancetta. Use a stick blender to puree until smooth. Season to taste and set aside.
For the Ginger Sugar Syrup, combine sugar, ginger and 60ml water in a small saucepan and simmer until sugar dissolves. Remove from heat and set aside.
To serve, place a piece of filo on each serving plate. Top with a layer of pumpkin puree then a slice of filo. Add a slice of roast pumpkin, a layer of filo, another slice of roast pumpkin, a layer of filo then a layer of puree and finally top with a slice of filo. Scatter with remaining diced pancetta. Top each filo stack with a pancetta slice. Spoon ginger syrup around edges of filo to create a drip effect.