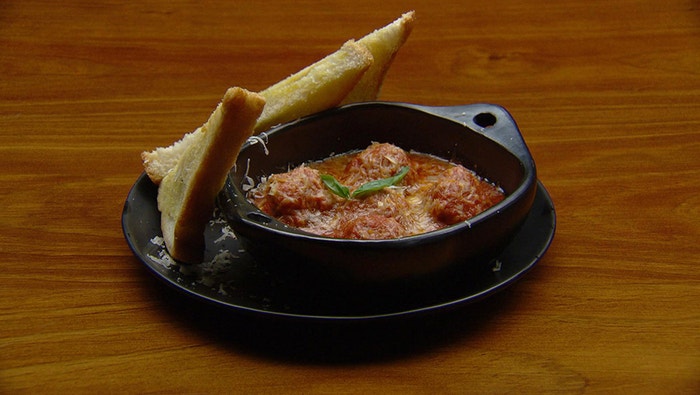 Steps
Preheat oven to 180C.
For the Napoletana Sauce, place olive oil, onion and garlic in a medium sized pan and set over medium heat. Fry until garlic is golden and onion has softened. Add passata and 500ml water and bring to a boil. Add basil and season with salt and pepper. Reduce heat and allow to simmer until reduced by ¼. Add pork skin and simmer until reduced by half, about another 10 minutes. Remove from heat and strain the sauce into a large frypan. Cover and set over low heat to simmer very gently until ready to cook meatballs.
For the meatballs, place oil in a small saucepan and set over medium heat. Add onion and fry until brown. Remove from heat and set aside to cool.
Place milk and bread in a small bowl and allow to soak for 5 minutes. Squeeze out excess milk and discard and place bread in a medium bowl. Add pork and beef mince, parsley, parmesan, mozzarella, garlic, cooled onion, salt and pepper and knead together by hand until well combined. Add egg and mix until mixture binds together. Divide mixture into 12 and roll into 12 even sized balls.
Place meatballs into the simmering sauce and simmer, turning meatballs halfway, until meatballs are cooked through, about 20 – 25 minutes. If sauce begins to dry out, add ¼ cup water, as required.
For the Garlic Bread, lay bread slices on a large baking tray. Combine garlic and olive oil in a small bowl and brush over bread. Place in oven and cook until golden. Remove from oven and set aside, keeping warm, until serving.
To serve, place 3 Meatballs into each serving bowl and top with Napoletana Sauce. Sprinkle with parmesan and baby basil leaves. Serve with Garlic Bread on the side.