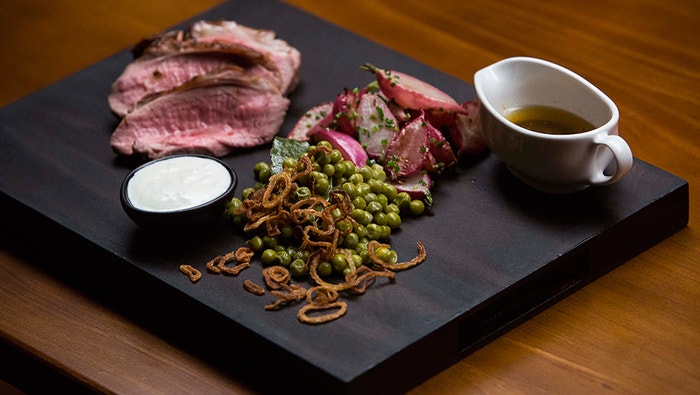 Steps
Preheat oven to 190C. Place two roasting pans in the oven to preheat.
Roast Garlic Yoghurt Sauce
To make the Roast Garlic Yoghurt Sauce, place garlic cloves in a piece of foil. Drizzle with 1 tablespoon of the olive oil and season with salt. Wrap the garlic in the foil and place in the oven at 190C to roast until soft, about 30 minutes. Remove from oven and allow to cool.
To finish, remove garlic from foil and squeeze out 1 tablespoon of the roasted garlic. Mix into the yoghurt, add remaining olive oil, and stir well to combine. Season to taste, spoon into a small ramekin and set aside.
Lamb Roast
For the Lamb Roast, peel and finely chop the garlic. Finely chop anchovy fillets. Mix extra virgin olive oil, garlic, thyme and anchovies together in a small bowl until well combined. Rub the marinade on the lamb leg, coating well and season with the sea salt.
Remove one of the preheated roasting pans from the oven, place on the stovetop over high heat. Place lamb leg in the roasting pan, fat side down, for 2 minutes or until sealed. Turn the lamb over and return the roasting pan to the preheated oven and roast until medium rare, about 7 - 8 minutes
Remove lamb from oven and sit on a small wire rack in the roasting pan. Cover loosely with foil and set aside to rest.
Braised Peas
For the Braised Peas, heat oil in a medium saucepan. Add peas and stir to coat. Add vermouth and bring to a simmer.
Add salt, mustard and bay leaf and bring to the boil. Cover, reduce heat then simmer until soft, about 20 minutes. Remove from heat and set aside, covered.
Roasted Radishes
To make the Roasted Radishes, trim and clean the radishes and cut in half lengthways.
Place radishes in the remaining preheated roasting pan. Season with salt and drizzle with the oil. Place in oven and roast until golden brown, about 10 minutes.
Once cooked, remove from oven and sprinkle chopped chives on top to finish. Set aside until needed.
Fried Shallots
For the Fried Shallots, peel and slice shallots on a mandolin to 2mm thickness. Gently break up shallot slices into rings. Place about 500ml of grape seed oil into a small saucepan or alternatively, place enough oil into a small frypan to come to about 1cm deep. Place over high heat and, once hot, add shallots. Fry until golden, stirring gently with a spider to prevent shallots from sticking.
Remove from saucepan and set aside on paper towel, season with salt, and leave to drain until needed.
Finishing the Lamb Roast
To finish the Lamb Roast, carve the lamb into slices about 1cm thick, arrange on serving plate or wooden board and finish with a sprinkle of thyme leaves. Place roasting tray back onto stove and deglaze with water, stirring until smooth and runny to form a sauce. Transfer sauce to a small serving jug and place onto serving plate, then place the ramekin of Roast Garlic Yoghurt Sauce next to the sauce jug.
Spoon some of the Roasted Radishes next to the lamb.
Spoon some of the Braised Peas next to the lamb and top with the bay leaf. Sprinkle the peas with some Fried Shallots and serve lamb board.
Notes
The hearty main to Nigella Lawson's three-course meal