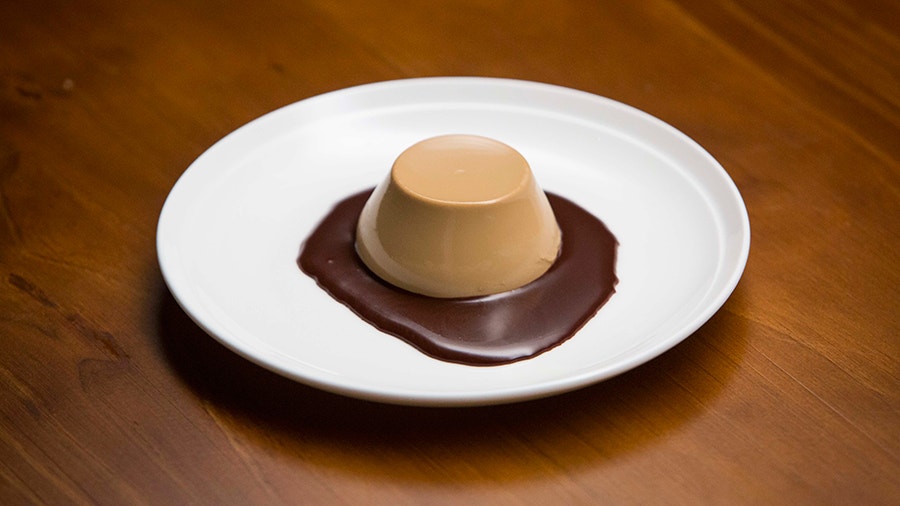 Steps
Coffee Panna Cotta
For the Coffee Panna Cotta, first place the gelatin in a small bowl of cold water and set aside to bloom.
Meanwhile, combine espresso coffee and the muscovado sugar in a medium saucepan and stir until sugar has dissolved. Stir in the cream and salt and bring to the boil.
Once the mixture is just at the boil, remove from heat. Remove gelatin leaves from water and squeeze to remove excess moisture. Add the gelatin leaves to warm cream mixture and stir well until gelatin has dissolved completely.
Pass the mixture through a fine sieve then whisk over an ice bath until mixture is completely cold. Transfer cold mixture to a jug.
Place three dariole moulds in a deep stainless steel tray. Pour mixture into the dariole moulds to 1cm from top. Carefully add about a handful of ice cubes to the tray to surround the moulds then add water to fill the tray half way up the side of the moulds to make a cold water bath. Place a flat stainless steel tray on top of the moulds to weigh them down. Place the covered moulds in the water bath into the fridge, being careful not to let any water get into the moulds, and refrigerate until set.
Chocolate Coffee Sauce
For the Chocolate Coffee Sauce, bring coffee liqueur to the boil in a small saucepan. Meanwhile, finely chop chocolate.
Once boiling, remove liqueur saucepan from heat and add chocolate pieces. Stir until smooth and remove from heat. Transfer to carafe and set aside to cool.
Finish
To finish the Coffee Panna Cotta, first prepare a warm water bath. Remove the dariole moulds from the fridge. To turn out the Panna Cotta, dip mould into the warm bath to loosen, then turn out onto a serving plate.
Serve Panna Cotta with jug of cold Chocolate Coffee Sauce.
Notes
A simple yet delicious dessert to finish off Nigella's three course meal.