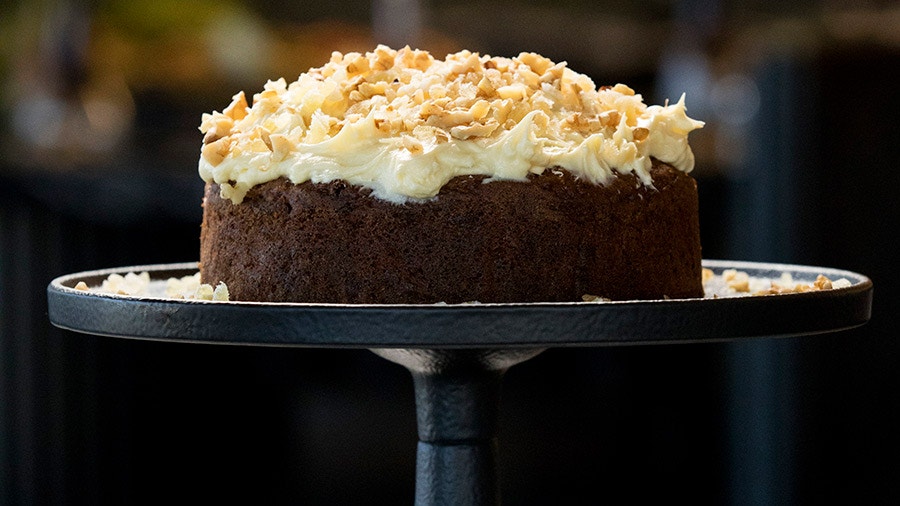 Steps
Preheat oven to 150C fan forced. Grease the sides and line the base of a 20cm spring form cake tin with baking paper.
Place the flour, baking powder, bicarbonate of soda, ground ginger and salt into a bowl and use a fork to mix well.
Beat the sugar, eggs and oil another large bowl until they are completely mixed together, then gradually add the flour mixture, scraping the sides of the bowl you're beating them in to rescue and incorporate any flour clinging to the edges. At this stage, the mixture may seem alarmingly stiff, but the carrots will loosen up. Beat in the carrots then fold in the 100g prepared walnuts and 75g of the crystallised ginger, until everything is completely combined.
Spoon and scrape into the prepared tin and smooth the top. Bake in the oven until for 45-55 minutes. The cake is ready when it is golden brown on top, beginning to shrink away from the edges of the tin and a skewer comes out with just a few crumbs stuck to it. Transfer to a wire rack and leave to cool in its tin.
Meanwhile, for the Icing, beat the butter and icing sugar together in a mixing bowl until creamily combined. Beat in the cornflour, followed by half of the cream cheese. Once that's incorporated, beat in the remaining half of the cream cheese, careful not to over beat.
Place the grated ginger into the centre of a square of paper towel to form a little swag bag, press on it over the bowl to squeeze out the ginger juice into the bowl of cream cheese icing. Cover with cling film and refrigerate.
When the cake is completely cold, remove the icing sugar from the fridge and set aside for 20 minutes to soften slightly to a thick but spreadable consistency. Beat the icing briefly to help smooth out.
Release the cake from the tin and transfer to a cake stand or plate. Spread the icing on top and swirl a little, then sprinkle the chopped walnuts and ginger on top.