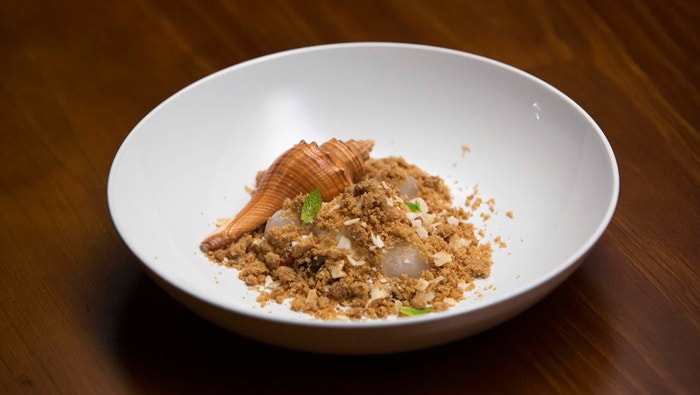 Steps
Preheat oven to 180C.
For the Strawberry Parfait, place strawberries, 1 tsp of the sugar and 1 tsp of water into a small saucepan and place over a low heat. Cook gently, stirring occasionally, until soft. Remove form heat and set aside to cool.
Meanwhile, place a small saucepan of water over low heat and bring to a simmer. Place egg, egg yolk and remaining ¼ cup sugar into medium sized heatproof bowl. Sit bowl over the saucepan of simmering water and use electric beaters to beat eggs and sugar until light and fluffy and tripled in volume. Remove bowl from the heat and set aside to cool slightly.
Place cream into the bowl of a stand mixer fitted with a whisk attachment and whip to stiff peaks. Fold whipped cream through the egg mixture, and then gently fold in the reserved strawberries and vanilla extract. Spoon into 7cm dome moulds, level off with a spatula and place into freezer to set.
For the Champagne Jelly, place gelatine into a bowl of iced water and set aside to bloom.
Meanwhile, combine champagne, sugar and 200ml water in a small saucepan over medium heat and bring to the boil. Remove from heat. Squeeze out gelatine to remove excess water, add to saucepan and stir until gelatine has completely dissolved. Strain and pour into 5cm dome moulds then place into the fridge to set.
For the Coconut Sand, combine flour, caster sugar, brown sugar, butter and salt in a bowl and use fingertips to rub together until mixture resembles to a coarse crumb. Spread crumb onto a baking tray lined with baking paper and bake in the oven until golden brown, about 8-10 minutes. Remove from oven and set aside to cool. Once cooled, add toasted coconut chips and mix through. Set aside.
For the Compressed Strawberries, place strawberries and mint leaves into a vacuum seal bag and vacuum seal. Set aside for 40 minutes to infuse.
For the Tempered Chocolate Sticks, place 40g of the dark chocolate into a bowl and place over a saucepan of simmering water, stirring until chocolate melts and reaches 40-45C. Remove bowl of chocolate from heat and add remaining chocolate, stirring until temperature reaches 28C. Sit bowl back over saucepan of simmering water and bring chocolate to 32C. Transfer chocolate into a piping bag and pipe fine lines of the chocolate onto a sheet of acetate to create sticks. Set aside to cool.
To serve, unmould Strawberry Parfait onto serving plates. Add 3 Champagne Jellies to each plate. Add Tempered Chocolate Sticks, Compressed Strawberries and sprinkle with Coconut Sand. Finish with some mint leaves and a clean seashell.