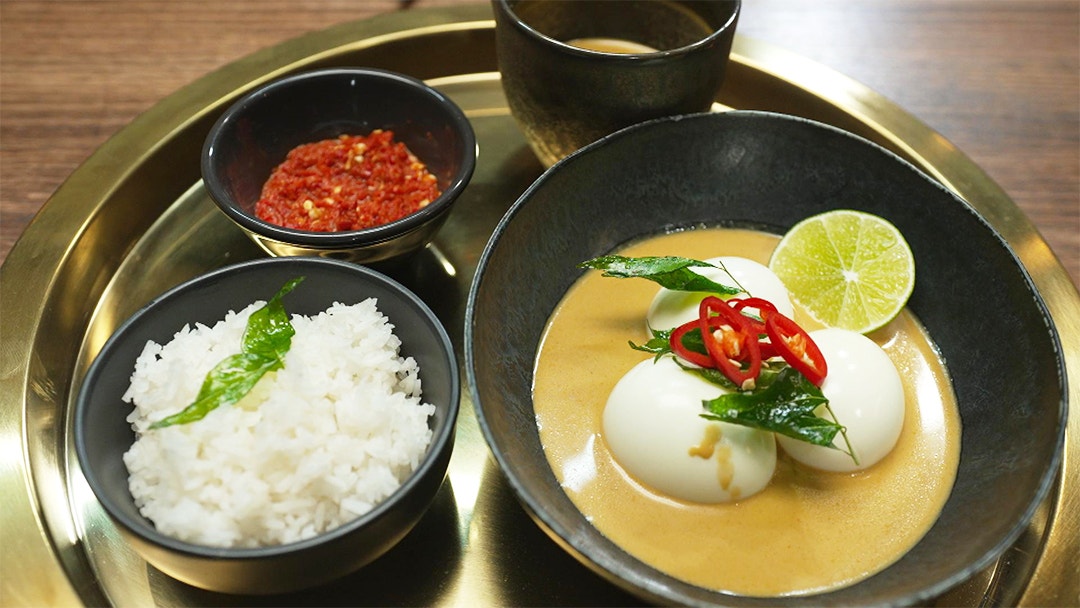 Steps
For the Nyonya Curry Sauce, soak chillies in boiling water for 10 minutes to soften.
Meanwhile, place coriander, cumin and fennel seeds into a small frypan and toast until fragrant, about 2 minutes. Transfer to a small plate to cool. Using the same pan, toast belacan for 2 minutes. Place 1 tablespoon into a food processor and set the remaining ½ tablespoon aside for later use in the Sambal.
Drain the softened chillies and roughly chop. Place in the food processor along with the toasted spices, belacan, shallots, garlic and 2 tablespoons of the oil and process to a rough paste. Set aside.
Place a medium saucepan over medium heat. Add remaining 2 tablespoons oil, cinnamon stick and star anise and cook for 2 minutes. Add the paste and cook until oil separates out from the paste, about 5 minutes. Add curry leaves and coconut cream and stir for 1 minute. Add pandan leaf, coconut milk and water and allow to simmer until reduced, about 20-30 minutes. Add lime juice, fish sauce and sugar until sauce is balanced, to taste. Strain sauce into a small saucepan. Cover and set aside.
For the Sambal Belacan, place chillies and reserved belacan into a food processor and process to a rough paste. Transfer to a small bowl then add lime juice and sugar, to taste. Cover and set aside.
For the Jammy Eggs, bring a saucepan of water to boil and prepare a bowl of iced water.
Place eggs into a wire strainer or spider and carefully lower into the boiling water. Boil for exactly 5 minutes and 50 seconds for the ideal yolk texture. Plunge eggs immediately into ice water and cool for 5 minutes. Peel eggs and set aside.
For the Crispy Curry Leaves, heat oil in a small saucepan over medium heat. Carefully add curry leaves (oil will spit) and cook until crispy, about 30 seconds. Remove from the pan and set aside on paper towel to cool.
To serve, place eggs in a wide serving bowl. Pour curry sauce until eggs are half submerged. Garnish with curry leaves, sliced chillies and lime. Serve with sambal belacan and rice on the side.