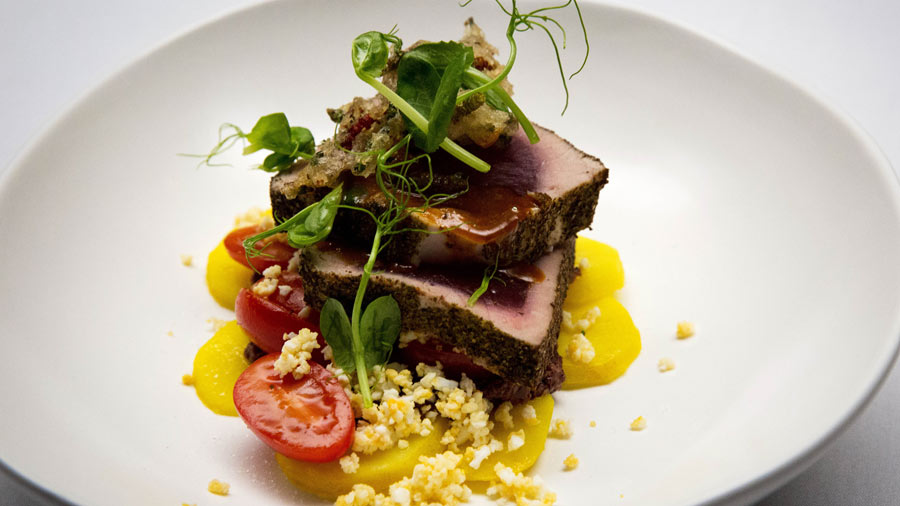 Steps
Preheat oven to 180C.
For the Tapenade, rinse olives and drain well then place into a food processor with remaining ingredients. Blitz to a coarse paste. Taste and adjust seasoning to taste, then transfer to a piping bag and set aside.
For the Bush Tomato Sauce, place cherry tomatoes into a baking dish and sprinkle with ground bush tomato, olive oil and salt. Roast until slightly brown and collapsing, about 20 minutes. Remove dish from the oven and deglaze with 1 tablespoon of balsamic vinegar. Stir the pan to loosen all juices and sediment. Pass tomato mixture through a sieve and adjust with 1 tablespoon of olive oil, keeping the sauce slightly thick. Transfer to a squeeze bottle and set aside.
For the Potatoes, peel and slice to 5mm thick on a mandolin. Place potatoes, chicken stock and butter into a large pot and bring to the boil. Reduce heat and simmer, covered, until aldente, about 20 minutes. Remove from heat and set aside in the pot until required.
For the Eggs, bring a large pot of water to the boil over high heat. Set up a bowl of iced water and set aside. Once water is boiling, add eggs and cook until hard boiled, about 10 minutes. Remove eggs and place in iced water until cold. Peel all eggs and push through a moulie. Set aside in the fridge until required.
For the Crispy Samphire, heat a deep fry pan of oil to 190C. Meanwhile, place flour into a bowl with a handful of ice cubes and cold lemonade and mix until combined, careful not to overwork. Add samphire and toss to coat evenly. Deep fry samphire in batches until golden brown using a spider or slotted spoon to prevent the samphire from clumping together. Remove from oil and drain on paper towel. Season with salt and set aside.
For the Tuna, clean up tuna by removing all blood lines and cut into 4 evenly sized barrels. Coat all sides of tuna pieces in the ground lemon myrtle and set aside in the fridge for 20 minutes.
Heat 2 tablespoons olive oil in a fry pan over medium heat. Once hot, add tuna and sear on each side for 30 seconds. Remove from pan and set aside to rest for 5 minutes. Slice tuna to 1.5cm thick.
To serve, lay some Potato slices on the plate and dot with some Tapenade. Place some tomato quarters on top. Sprinkle with some of the Eggs. Squeeze some Bush Tomato Sauce on top. Place slices of Tuna in an overlapping pattern on the plate. Drizzle with some more Bush Tomato sauce and finish with some pea tendrils and Crispy Samphire.