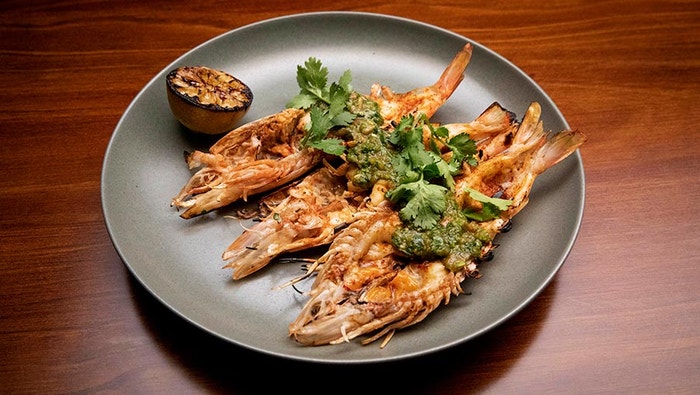 Steps
For the Tomatillo and Coriander Salsa, place tomatillos and jalapenos onto a wire rack and place over an open flame. Cook until charred and blistered, turning occasionally to ensure they are evenly blackened. Remove from heat, place into a bowl and cover tightly with cling film. Allow to steam for 10-15 minutes then remove and discard blackened skin and chop flesh finely.
Meanwhile, place the garlic into a mortar and pestle and pound until smooth. Add the coriander leaves, extra virgin olive oil, jalapeno pickling liquid and continue pounding until fully incorporated.
Add chopped tomatillo and jalapeno flesh to the mortar and pestle. Pound and mix to create a smooth, yet slightly chunky salsa. Season with salt and set aside until serving.
For the Grilled Prawns, heat a griddle pan over a high heat. Using a pastry brush, brush the olive oil onto the flesh side of the prawns and sprinkle with smoked paprika and salt.
Place the prawns into the griddle pan, flesh side up and grill for approximately 2-3 minutes. Turn and cook for 1 minute or until prawns are just cooked through. Transfer the cooked prawns to a clean plate, drizzle with extra virgin olive oil and set aside until serving.
Place the lime halves, flesh side down into the hot griddle pan and cook until slightly charred, about 2-3 minutes. Remove from heat.
To serve, place the Grilled Prawns onto a serving platter. Top with Tomatillo and Coriander Salsa and serve with the Charred Lime on the side.