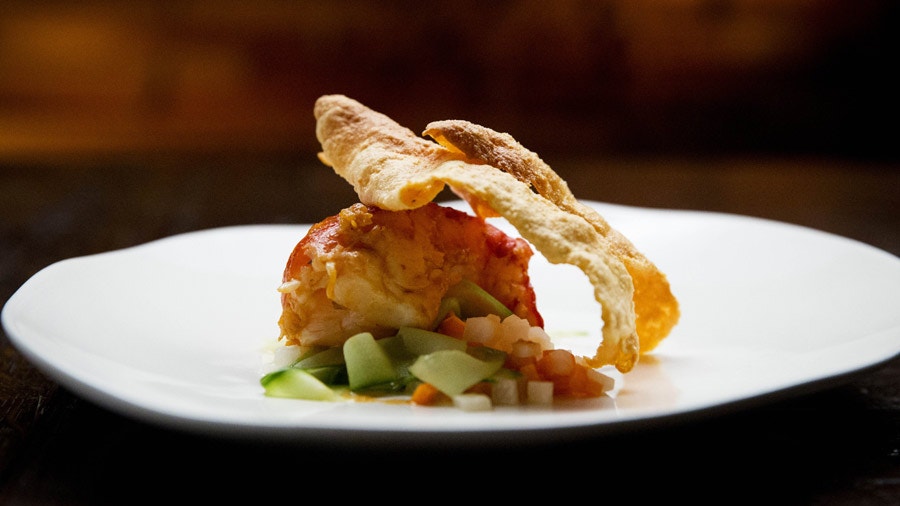 Steps
Preheat oven to 150C.
To prepare the Marron, remove tails from all 5 marron required for the recipe and set tails, in the shell, aside in the fridge until required. Reserve remaining marron heads for the Dashi Broth.
For the Dashi Broth, place bonito, shitake mushrooms, kombu and reserved marron heads into a large pot with 2 litres of water. Bring to the boil, then reduce heat and simmer for 15 minutes. Remove from heat and strain into a clean bowl. Reserve solids.
Measure out 500ml of strained Dashi Broth into a clean saucepan and reduce by 1/2. Once reduced, set aside for the Smoked Vegetables and Cucumber Ribbons. Set aside the remainder of the Dashi Broth until needed.
For the Dashi Ponzu Dressing, measure out 125ml of the reserved reduced Dashi Broth. Add sake, sesame oil, mirin and yuzu juice taste and balance of these ingredients, to taste. Whisk the dressing well to combine. Set aside the dressing and the remainder of the reduced broth until needed.
Place remaining strained Dashi Broth into a powerful blender with half of the reserved solids from the stock. Blend for 2 minutes to break up the shells then strain through a fine sieve lined with muslin cloth into a clean saucepan. Place the saucepan over medium heat and bring to a simmer. Reduce by ½ then set aside until needed for the Marron.
For the Smoked Vegetables, spread diced vegetables into a deep roasting pan and cover tightly with two layers of cling film. Prepare a smoking gun with applewood chips. Pierce the cling film with the nozzle of the smoking gun. Ignite the smoking gun and allow smoke to fill the bowl. Remove nozzle and cover tightly with another layer of cling film to seal. Set aside to smoke for 15 minutes.
Once smoked, remove cling film and transfer Smoked Vegetables to a saucepan with half of the reserved reduced Dashi broth. Braise over low heat until just soft, but not losing shape, about 10-15 minutes. Strain, reserving broth for the Fresh Salad, and set vegetables aside until needed.
For the Fresh Salad, peel, core and de-seed the pear, apple and cucumber. Use a mandolin to slice the pear, apple and cucumber to 3mm thick. Once sliced, cut into 3mm x 3mm dice and place in a bowl. Add reserved braising liquid from the Smoked Vegetables and toss gently to coat. Set aside until needed.
For the Cucumber Ribbons, use a peeler to peel cucumber lengthways into ribbons. Divide the ribbons equally between two bowls. Add 1 tablespoon of the reserved Dashi Ponzu dressing to one of the bowls of cucumber and toss gently to coat. Add 1 tablespoon of the reserved reduced Dashi Broth to the other bowl of cucumber and toss gently to coat. Set aside until needed.
For the Marron Crisps, remove marron flesh from tail shell. Place flesh, egg whites, tapioca and a pinch of salt in a stick blender cannister and blitz with a stick blender to a thick paste. Spread the paste to 3mm thickness across a baking tray lined with baking paper and bake in the pre-heated oven until crisp, about 20 minutes.
Remove from the oven and set aside to dry out and cool completely. Once cool, break up into long shards. Heat a large saucepan of oil, or deep fryer, to 160C. Deep fry shards in batches until crisp, turning occasionally to ensure even cooking, about 1 minute. Remove from oil and drain on paper towel. Season with salt and set aside until needed.
For the Marron, bring a large pot of water to the boil over high heat. Prepare a bowl of iced water and set aside until needed.
Once water is boiling, add marron tails and blanch for 20 seconds, remove from heat and plunge immediately into the prepared bowl of iced water to cool. Once cool, use scissors to cut the tail shells down the centre and remove flesh from the shell.
Heat butter and oil in a medium sized fry pan over medium heat. Add marron tails and cook, spooning over the pan juices frequently, until medium rare, about 5 - 7 minutes. The marron should still be translucent in the centre.
Remove marron tails from the pan and set aside to rest slightly. Add ½ a cup of the reserved blended shell Dashi Broth to the marron frypan, reduce heat to low and simmer until liquid is reduced and slightly thickened, about 3 minutes. Add reserved marron tails and spoon over the sauce until almost cooked through in the thickest part of the tail. Remove pan from heat and set aside to rest.
To serve, place 2 spoonfuls of the Smoked Vegetables the centre of each serving plate. Add some Cucumber Ribbons and top with some of the Fresh Salad. Place a Marron tail on top and finish with 2 Marron Crisps stacked on top.