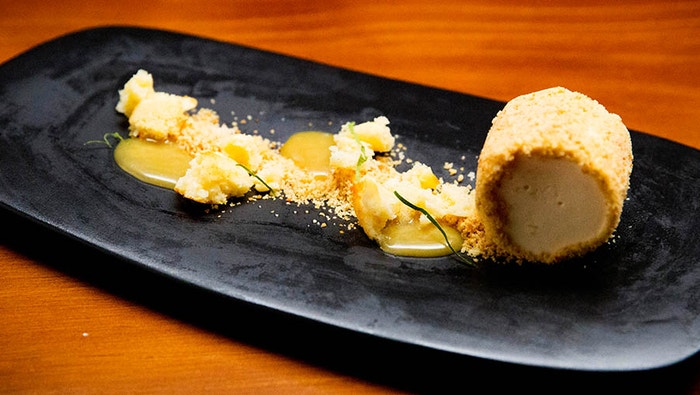 Steps
Preheat oven to 180C.
For the Lemon Myrtle Parfait, combine milk and lemon myrtle in a small saucepan over low heat. Simmer for 1 minute then remove from heat and set aside to infuse until required.
Place egg, egg yolks and sugar in a medium bowl and place over a saucepan of simmering water. Whisk until thick and pale, about 6-7 minutes. Strain reserved lemon myrtle milk mixture into the egg mixture and whisk until well combined. Place over an ice bath until cool.
Meanwhile, whip cream to soft peaks. Gently fold whipped cream into the cooled egg mixture until fully incorporated.
Line a baking tray with baking paper and sit 6 by 6x6cm ring moulds on the tray. Pour parfait mixture into ring moulds and set aside in the freezer until set.
For the Maple Caramel, combine sugar, maple syrup and 1 tbsp water in a saucepan and bring to the boil. Reduce heat and allow to simmer gently. Meanwhile, warm cream in a small saucepan then add to maple mixture along with butter and coconut water. Whisk to combine and simmer until reduced and light golden, about 5-7 minutes. Set aside.
For the Crumb, process butter, flour and sugar in a food processor to a large crumb. Add maple syrup, yolk and salt and process to a soft dough consistency.
Roll mixture onto a paper lined baking tray to 0.5cm thickness and cook until golden, about 15 minutes. Set aside to cool then pulse in a food processor until fine crumb. Set aside.
For the Goat's Cheese Sponge, grease and line a 26cm x 13cm loaf tin. Using an electric mixer, whisk egg and cream until pale and fluffy, about 5 minutes. Add sugar gradually and beat for another 5 minutes until sugar is dissolved.
Meanwhile, place goat's cheese into a heatproof bowl in the microwave to melt, about 20 seconds. Allow to cool slightly, then fold into egg mixture. Sift flour over mixture, ¼ at a time and fold in gently. Pour mixture into prepared tin and bake until top of cake springs back when gently pressed, about 10-12 minutes. Remove tin from oven and turn upside down onto a cooling rack. Allow to sit for 5 minutes, then remove tin and allow sponge to cool. Break into small pieces and set aside until required.
For the Garnish, make an ice bath and set aside. Bring a small saucepan of water to the boil. Once water is boiling, plunge lemon myrtle leaves into boiling water for 30 seconds then remove and plunge into the ice bath. Drain on paper towel and reserve for garnish.
To serve, remove parfaits from moulds. Roll parfaits in maple crumb and position onto rectangular serving plates. Divide remaining crumb along plates, dot with caramel and finish by scattering with sponge pieces and blanched lemon myrtle leaves.