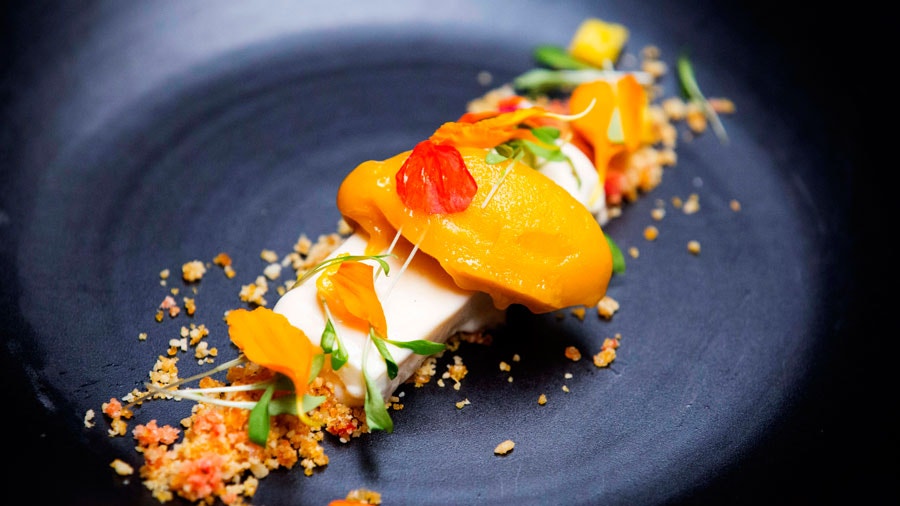 Ingredients
Macadamia and Chilli Praline
Steps
Turn on ice cream machine to chill setting.
For the mango sorbet, combine sugar with 90 ml water in a small saucepan and stir until sugar has melted. Add glucose and stir until dissolved. Mix in mango and lemon juice and chill over an ice bath. When cool, pour into ice cream machine and churn according to manufacturer's instructions. Once churned, set aside in the freezer.
For the yoghurt parfait, line an 18 cm x 18 cm shallow tray lined with plastic wrap. Place eggs and egg yolk in a medium bowl and set over a saucepan of simmering water. Whisk until pale and fluffy. Remove from heat and allow to cool. Gently fold in yoghurt, vanilla and lemon. Pour into prepared tin and place in freezer until almost set, about 40 minutes. When almost set, remove from freezer and mark widthways into 6 x 9cm x 6cm portions. Return to freezer to set.
For the praline, place macadamia nuts on a paper lined tray. Place caster sugar in pan over medium heat and cook until golden brown. Pour over macadamias and sprinkle with chilli and salt. Allow to set.
Process praline in food processor until fine crumb. Set aside.
For the chilli salt, combine chillies and salt flakes in a food processor until fine.
To serve, cut parfait into rectangles and place on plate. Add diced mango, chilli praline, micro coriander and sorbet. Top with flowers and sprinkle with chilli salt.