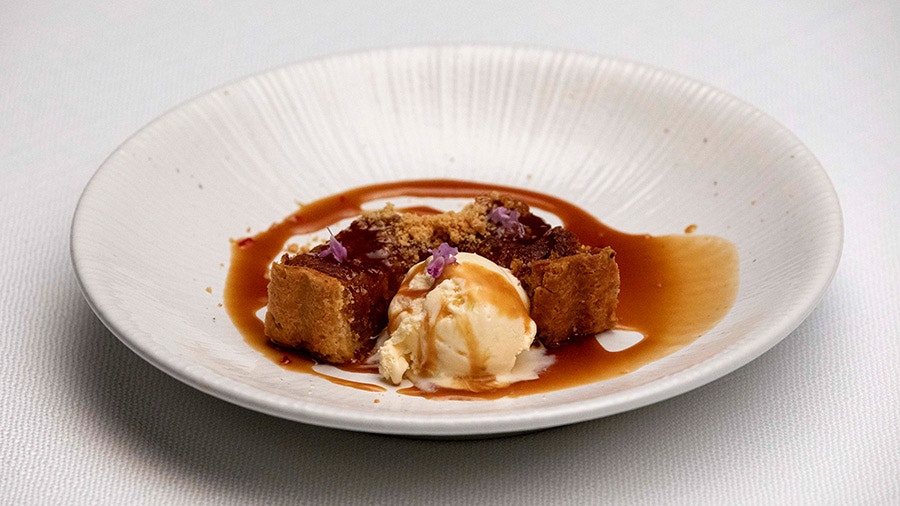 Steps
Preheat oven to 180C. Prechill ice cream machine.
For the Pineapple Tart, place pineapple in a food processor, process until crushed then transfer to a large frypan. Place over medium heat, add caster sugar, pandan leaves and star anise and cook until light golden brown and thick jam consistency, about 40-45 minutes. Remove from heat and remove pandan and star anise. Transfer pineapple jam to a large bowl and place it in the fridge to cool.
Meanwhile, prepare the sweet crust pastry. Place flour, icing sugar, unsalted butter, eggs, yolks, lime zest and salt into the bowl of a food processor. Pulse to combine then add 1 tablespoon cold water and process to a soft dough. Turn dough onto bench, flatten into a disc, wrap in cling firm and place in fridge for 10 minutes to rest.
Roll out the pastry to 3mm thickness and press into a 34cm x 11cm rectangular tart tin. Place the tray in fridge for 10 minutes.
Remove pastry and pineapple jam from fridge and fill pastry shell with jam. Place in oven to bake until pastry is golden, about 50 minutes. Remove from oven and allow to cool.
Once cool, slice into 8 even portions and set aside, until serving.
For the Lime Ice Cream, place cream and milk into a medium saucepan and bring to a simmer over low heat.
Meanwhile, place sugar and eggs in the bowl of a stand mixer fitted with a whisk attachment. Whisk until pale and creamy. While whisking, gradually add the hot milk mixture and whisk until combined.
Return mixture to the saucepan and stir over a low-medium heat until mixture reaches 85C and thickens. Remove from heat and pass through a fine sieve into a medium bowl. Place over an ice bath to cool.
When cool, add lime juice, zest and salt and stir to combine. Transfer to an ice cream machine and churn according to manufacturer's instructions. Set aside, in freezer, until serving.
For the Peanut Praline Crumb, place roasted peanuts onto a small lined tray.
Place sugar and 50ml water into a small frypan and melt sugar until golden brown. Remove from heat and pour over roasted peanuts. Sprinkle with salt and set aside to cool.
Break into small pieces and pulse in a food processor until fine powder. Set aside, until serving.
For the Salted Chilli Caramel, place sugar and 50ml water in a saucepan and heat over medium heat until golden brown. Add cream and whisk until combined. Add butter, one cube at a time, whisking until the butter melts. Add chilli and salt and stir to combine. Transfer the caramel into a squeeze bottle and set aside to cool until serving.
To serve, place a slice of Pineapple Tart into the middle of each serving plate and sprinkle with Peanut Praline Crumb. Add a scoop of Lime Ice Cream and drizzle with Salted Chilli Caramel. Garnish with thyme flowers.