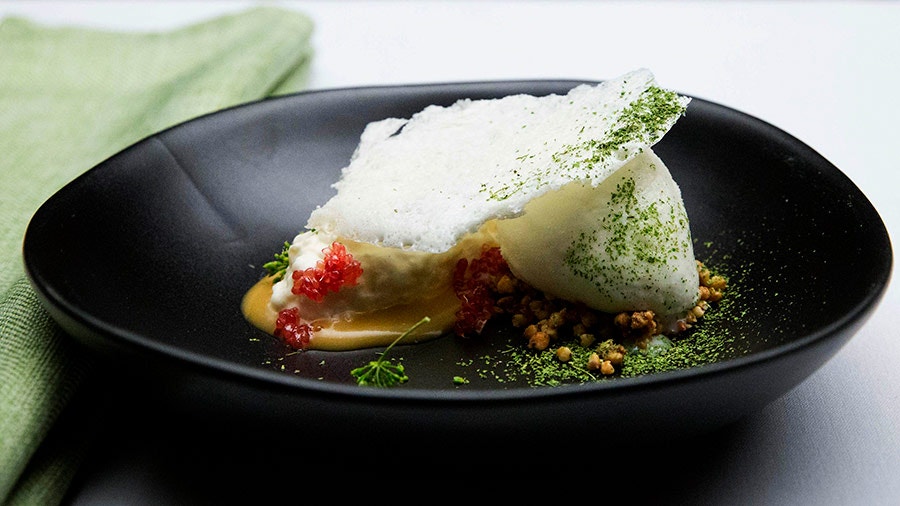 Ingredients
Lemon Verbena Yoghurt Sorbet
Lemon Verbena Rice Pudding
Steps
Turn on ice cream machine to pre-chill. Pre-heat oven to 70C.
For the Lemon Verbena Yoghurt Sorbet, place caster sugar and 440ml water into a saucepan and stir to dissolve the sugar.
Add lemon verbena leaves and allow to steep for 20 minutes over a low heat. Remove from heat and set aside to cool, then strain the mixture through a fine sieve. Transfer the mixture into a medium bowl, add Greek yoghurt and whisk together until fully combined.
Pour the sorbet mixture into the ice cream machine and churn according to manufacturer's instructions. Once churned, place sorbet into freezer to set.
For the Crispy Milk Foam, place milk in a large saucepan, add glucose and sugar and bring to the boil. Remove from heat
Using a stick blender, blend the hot milk close to the surface, tilting the saucepan slightly to allow the milk to foam.
Using a slotted spoon, remove the foam from the milk and spread lightly onto flay baking trays lined with silpat mat.
Place in the pre-heated oven until dry, about 2 hours. Once dry, remove the Crispy Milk Foam from oven and set aside to cool. When cool, break into shards and set aside in an airtight container until ready to serve.
For the Lemon Verbena Rice Pudding, place milk and lemon verbena leaves into a medium saucepan.
Bring to boil, reduce heat and allow to simmer for 5 minutes. Set aside and let the milk infuse for a further 15 minutes. Strain the milk through a fine sieve, discarding the leaves. Place milk into a medium saucepan, add rice and simmer over low heat until rice is soft, about 15-18 minutes.
Add sugar and vanilla bean paste and stir until sugar has dissolved. Transfer the rice to a medium bowl and set aside in the fridge to chill. Once cooled, whip cream to soft peaks and fold gently through the cooled rice pudding. Cover and set aside in the fridge until ready to serve.
For the Whey Caramel, place the buttermilk into a small saucepan and bring to boil.
Simmer for 3-4 minutes until the curd separates from the whey. Strain through a fine sieve lined with muslin cloth, discarding the solids. Place 80g of the strained whey in a small saucepan and place over a very low heat. Cover and keep warm until needed.
Meanwhile, melt sugar in a separate saucepan over low heat until a golden amber colour. Once sugar has caramelized, whisk in the warm whey until well combined and smooth and continue to cook gently for 1-2 minutes. Remove caramel from heat and whisk in the crème fraiche, then the butter. Remove the Whey Caramel from the heat, season with a little salt to taste and set aside in a small bowl to cool until ready to serve.
For the Buckwheat Rocks, place butter into a small saucepan and melt over a low heat. Add buckwheat and stir until coated in butter. Add icing sugar and mix to combine.
Remove from heat and spread the buckwheat over a flat baking tray lined with baking paper. Set aside to cool until needed.
For the Lemon Verbena Powder, place the leaves on a plate and microwave on high for 30 second. Repeat for a further 30 second interval until leaves are dry and crispy. Place the dried leaves in the bowl of a mortar and pestle and grind to a fine powder. Pass the powder through a fine sieve and discard larger flakes. Set the Lemon Verbena Powder aside in a small bowl until ready to serve.
To serve, place some Whey Caramel to the left of each plate and a tablespoon of Buckwheat Rocks on the right side of the plate. Place a tablespoon of Lemon Verbena Rice Pudding on top of the caramel. Place a piece of Crispy Milk Foam next to the rice pudding. Dress with one sprig of parsley flowers and squeeze pulp from finger limes around the plates.
Place a quenelle of Lemon Verbena Yoghurt Sorbet on top of the buckwheat and sprinkle with some Lemon Verbena Dust and a little salt.