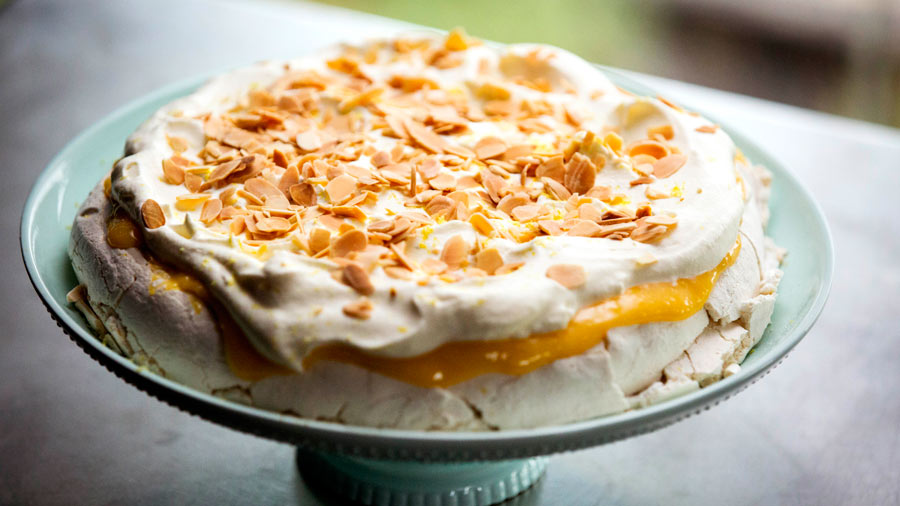 Steps
Preheat oven to 180C. Line a baking tray with baking paper.
Beat egg whites until satiny peaks form, then beat in the sugar, a spoonful at a time until meringue is stiff and shiny.
Sprinkle cornflour over meringue, then grate in the lemon zest and juice. Gently fold mixture until thoroughly combined. Use small dots of the meringue mixture to stick the baking paper down onto the baking tray. Mound meringue mixture onto the lined baking tray in a fat circle, approximately 23cm in diameter, smoothing the sides and top with a knife or spatula.
Place pavlova into the oven and turn temperature down immediately to 130C, bake for 1 hour.
Turn oven off, open door and leave pavlova to cool completely.
Meanwhile, for the Lemon Curd, place all ingredients into a medium sized heavy based saucepan, off the heat, and whisk together until combined.
Place pan over medium heat and gently stir or whisk continuously, taking pan off and on the heat in regular intervals, until thickened, about 5-7 minutes. Once thickened, transfer to a bowl and set aside to cool.
For the Toasted Almonds, place into a dry medium sized frypan over medium heat and toast, shaking pan gently until they begin to colour. Transfer toasted almonds to a plate and set aside until required.
For the Whipped Cream, place cream into a stand mixer fitted with a whisk attachment and whip cream until soft peaks just begin to form. Set aside until required.
To assemble, turn Pavlova upside down onto a serving plate and peel away baking paper. Spread Lemon Curd over the Pavlova almost to the edges. Top with Whipped Cream, using a spatula to create small peaks. Sprinkle with lemon zest and top with Toasted Flaked Almonds.