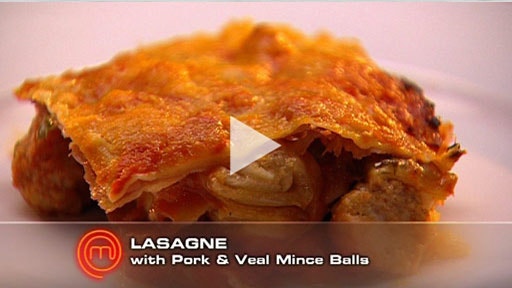 Steps
Preheat oven to 165°C.
For the pasta dough, process all ingredients and a pinch of salt in a food processor for about 20 seconds until the mixture just comes together. Transfer to a clean, lightly floured work surface. Knead the dough for a couple of minutes or until smooth. Wrap in cling wrap and set aside for 2 hours to rest
Combine the pork mince, veal mince, breadcrumbs and egg together in a bowl. Season well with sea salt and freshly ground pepper. Roll the mixture into 2cm balls. Chill in the refrigerator until needed.
For the onion and tomato sauce, heat ½ cup of oil in a large, deep frying pan over medium-high heat. Add onions and cook for 10-15 minutes or until lightly golden and softened. Add tomatoes, tomato puree, rosemary and thyme sprigs. Cover with a lid, reduce heat to a simmer and cook for about 1 hour, stirring occasionally. Add the meatballs. Cover and cook for about 20-30 minutes until cooked through. Remove from the heat.
Meanwhile, add eschalots to small saucepan and pour over the remaining 600ml of olive oil to cover. Cook for 1 ½ hours over very low heat, then add the garlic cloves. Cook for a further hour until eschalots and garlic are tender. Drain and reserve the oil. Heat a frying pan over medium-high heat, add eschalots, and cook for about 2-3 minutes until lightly golden, then add the garlic and cook for another couple of minutes until caramelized. Add the thyme leaves, then remove and drain on paper towel.
: Divide the dough into 4 equal portions. Use the palm of your hand to flatten the dough. Set the pasta machine to the widest setting and dust the pasta rollers lightly in flour. Feed 1 portion of dough through the machine, folding the pasta in half before feeding it through each time. Gradually narrow the pasta machine settings, 1 notch at a time until you reach the second last setting on the machine. Repeat with the remaining dough.
Drizzle olive oil, sea salt and grated pecorino over the base of a 3.5L baking dish. Lay over 2 sheets of pasta. Drizzle with a little more oil and sea salt. Scatter over half of the meatballs and spoon over the sauce. Scatter over half of the potatoes, eggs, eschalots, garlic, buffalo mozzarella, parsley and marjoram leaves. Sprinkle over a little more pecorino, then a layer of prosciutto. Lay over 2 more sheets of pasta and push any air out, with your hands. Add another layer of the filling. Finish with another layer of pasta. Spoon over some tomato sauce and the remaining pecorino. Cover with foil, shiny side down. Place in the oven to bake for 45 minutes. After 40 minutes, remove the foil and return lasagne to the oven for the last 5 minutes.
Notes
* In the absence of pecorino, parmesan may be used.