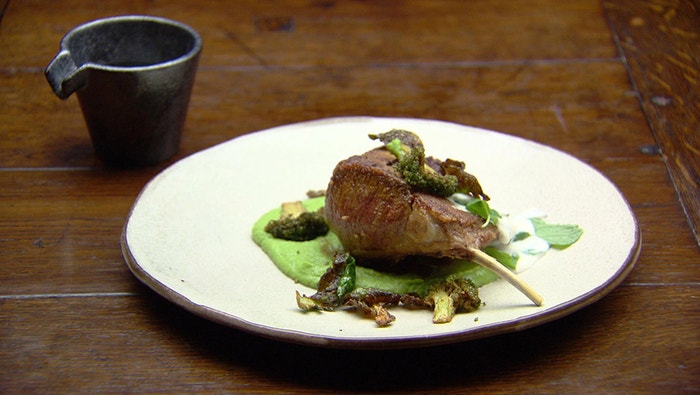 Steps
Preheat the oven 180C.
For the Yoghurt Sauce, mix all the ingredients in a small bowl and place in the fridge until serving.
For the Curry Sauce, place a small saucepan over medium heat. Add olive oil and lamb trimmings and cook until brown. Add spices and cook, stirring, until spices are toasted and fragrant. Add beef stock, white vinegar, sugar and lemon juice, bring to a boil then reduce heat and simmer until sauce is thick and glossy. Strain into a clean saucepan, season with salt and set aside until serving.
For the lamb, mix dry spices, garlic, salt and pepper in a small bowl then rub into the lamb.
Place oil in an oven proof frypan and set over medium high heat. Add lamb and pan sear until brown, about 2-3 minutes.
Transfer lamb to the oven until cooked to your liking, about 15 - 18 minutes for medium-rare. Remove from oven and set aside, to rest, until serving.
For the Pea Puree, boil peas in salted water until bright green and soft, about 2 minutes. Strain, reserving cooking water.
Place peas, butter and salt into a small food processor and blend to a smooth, soft puree, adding some of the cooking water if necessary. Set aside, keeping warm, until serving.
For the Fried Vegetables, place grapeseed oil in a medium saucepan and heat to 160C.
Mix the dry spices and chickpea flour in a medium bowl. Drizzle vegetables with olive oil and coat in the spice mix.
Deep fry the vegetables, working in batches if necessary, until golden. Remove from oil and drain on paper towel. Season with salt and set aside until serving.
To serve, spoon Pea Puree into the middle of each serving plate. Carve Lamb into 3 point serves and add to the plate. Add Fried Vegetables and drizzle with Yoghurt Sauce. Serve the Curry Sauce in a serving jug on the side.