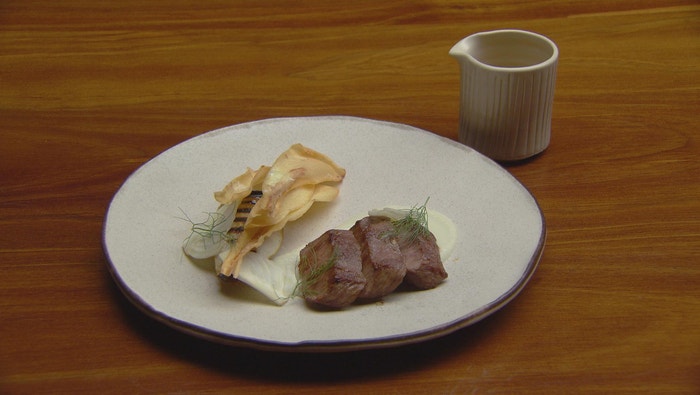 Steps
Preheat oven to 225C.
For the Fennel Wings, combine ingredients in a bowl and mix to coat fennel.
Place fennel into a vac seal bag, vaccum seal and set aside to infuse.
For the Lamb Jus, place lamb bones into a roasting tray and cook in oven for 20 minutes until golden brown.
Reduce oven to 180C.
Place olive oil into a sauté pan and place over high heat. Add carrot, celery and shallots and cook until golden brown, about 10 minutes. Add half of the roasted bones then deglaze the pan with brandy and flambé until almost dry. Add the white wine and simmer until reduced by half.
Add stock, bring to the boil and reduce by half until glossy and thick, about 20 minutes. Strain through a fine sieve into a clean saucepan and bring to a simmer over medium heat. Add remaining roasted bones and stir though for another 10 minutes.
Strain through a fine mesh sieve into a measuring jug and pour 25ml into a serving jug to serve.
For the Fennel Purée, place the fennel, cream and thyme into a medium saucepan and place over high heat. Bring to the boil then reduce heat and simmer until fennel is soft.
Remove the muslin wrapped thyme and strain fennel through a sieve, reserving liquid. Transfer fennel to the canister of a stick blender and purée. Add butter and some reserved liquid and process until a smooth soft puree is achieved. Season to taste.
Pass purée through a fine sieve into a bowl and season. Cover and set aside.
For the Grilled Pears, heat a griddle pan over high heat.
Place pears in a bowl with oil and salt and mix well to coat. Place pears flesh side down onto the hot pan, cover with baking paper and place another griddle pan on top of the paper as a weight.
Place pans into oven and bake until tender, about 10 minutes.
Remove from the oven, remove top pan and set aside.
For the Parsnip Chips, heat a medium saucepan of oil to 180C.
Using a vegetable peeler, peel strips from parsnip then cook in hot oil, in batches, until golden and crispy, about 2 minutes. Remove from oil and drain on kitchen paper. Season with salt and set aside.
For the Pan Seared Lamb, coat lamb with olive oil and season well with salt.
Heat a large ovenproof frying pan over high heat and sear the lamb on all sides for 1-2 minutes until browned.
Cook lamb in oven until medium rare, about 5 minutes. Remove lamb from pan and set aside to rest for at least 10 minutes.
Slice each loin into 4 slices, about 2cm thick and set aside.
To serve, spread Fennel Purée across each plate. Top with 4 slices of pan Seared Lamb and top with Grilled Pears. Arrange Fennel Wings and Parsnip Chips around the plate. Garnish with Fennel Fronds and serve with Lamb Jus on the side.