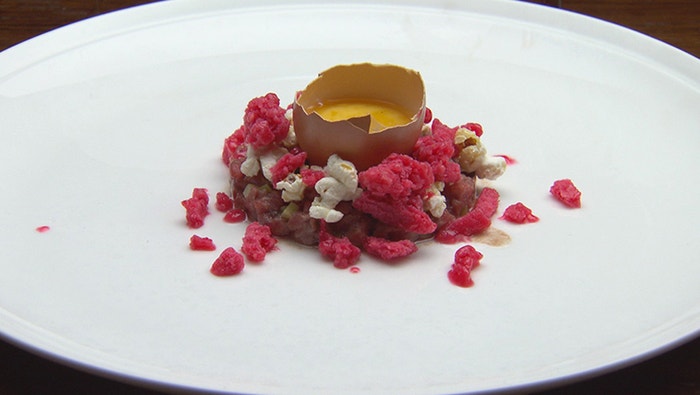 Steps
For the Lamb Tartare, first heat the oil in a medium sized frypan over medium heat to 180C.
Meanwhile, cut the lamb into a small dice. Place the diced lamb into a clean bowl and cover with cling film. Set aside in the fridge.
Dry the drained capers with paper towel. Add to the frypan of hot oil and fry until golden and crisp, about 1-2 minutes. Remove form oil and drain on paper towel.
To the bowl of diced lamb, add the lime juice, vinegar, cornichon and half of the crispy capers. Season with salt and pepper then re-cover and set aside in the fridge until needed. Reserve the remaining crispy capers for later use.
For the Raspberry Granita, combine the sugar and water in a small pot over low heat and stir until the sugar has dissolved. Remove the sugar syrup from the heat and allow to cool to room temperature.
Place the raspberries into a blender with the sugar syrup and blend until smooth. Strain through a sieve into a shallow tray, then place into the freezer until frozen.
Once frozen, use a fork to scrape the frozen granita to create a snow. Set aside in the freezer, scraping with a fork every 10 minutes, until ready to serve.
For the Popcorn, heat the oil in a small saucepan over medium heat. Add the popcorn kernels, cover with the lid and cook until the kernels pop. Remove from the heat and set the saucepan aside, covered, for 5 minutes. Uncover and season the popcorn with salt then set aside until needed.
Carefully place the egg yolks into a large bowl, being careful not to break the yolks. Cover the bowl with cling film. Insert the hose of a smoking gun and seal the cling film around the hose tightly. Light the smoking gun chips and allow the bowl to fill with smoke, then remove the hose and re-seal the cling film tightly. Set aside to smoke for 10 minutes.
To serve, gently place some of the Lamb Tartare mixture into a ring mould. Place a Smoked Egg Yolk into the middle of the Lamb Tartare and garnish with the Popcorn and Rasberry Granita. Serve with a last minute squeeze of lime and a scatter of the reserved crispy capers.