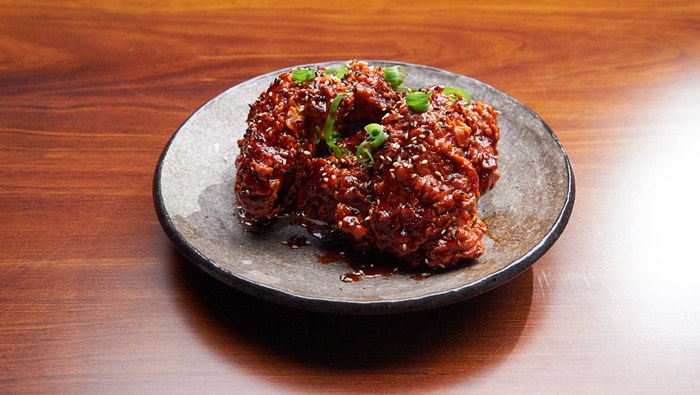 Steps
Preheat the oil in a deep fryer to 150C.
For the Fried Chicken, place the buttermilk into a medium bowl. Remove the wingtips from the chicken wings and place the trimmed wings into the buttermilk. Set aside in the fridge for 20-30 minutes.
Combine the flour, cornflour and a pinch of salt together in a medium bowl and set aside.
Drain the wings slightly then dip the chicken wings into the flour mix. Remove the wings from the flour and dip into the buttermilk then back into the flour mix.
Place the wings into the deep fryer and fry until almost cooked through, about 15 minutes. Remove from the oil and set aside on paper towel.
Increase the temperature of the deep fryer to 185C. Return the wings to the oil and cook until brown, crispy and cooked through, a further 5-7 minutes.
Remove from the oil and drain on fresh paper towel. Season with salt.
Meanwhile, for the Korean Sauce, place the sesame oil into a large, deep frypan and place over a medium heat. Add the spring onions and ginger to the frypan and fry until fragrant, about 2 minutes. Add the gochujang and fry, stirring, for 2-3 minutes.
Add the remaining ingredients along with ½ cup water to the frypan and simmer until the sauce has reduced and thickened, about 10 minutes. Season with salt and remove from the heat.
Place the fried chicken wings into the frypan and toss in the sauce until completely coated.
To serve, pile the chicken wings onto a large serving plate and scatter with spring onions and sesame seeds.