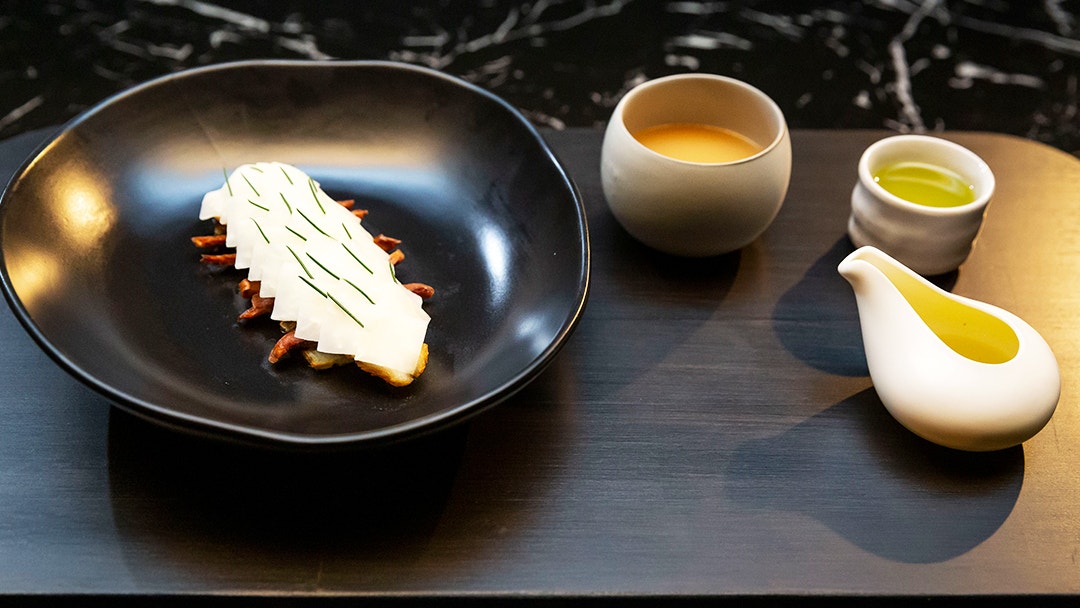 Ingredients
Pan Seared Pine Mushrooms
Pan Seared King George Whiting
Steps
Preheat oven to 180C.
For the Kohlrabi Scales, slice the Kohlrabi in half horizontally, then use a mandolin to slice 10 x 1mm thick slices from each half. Reserve offcuts.
Season all the slices generously and evenly with salt, stack and seal in a sous vide bag. Set aside to brine for 45 minutes. Remove the slices and allow excess moisture to drain. Trim the stack of kohlrabi into a 4 x 4cm square, then cut the square into four quarters. Reserve for assembly.
For the Broth, remove fillets from whiting and reserve. Chop frames into small pieces and place in a medium saucepan over high heat. Add 1 litre water, kohlrabi leaves and stems along with the mushrooms and bring to a simmer.
Season with salt, white pepper and 1 tablespoon tomato ponzu and simmer until reduced by 2/3's, skimming the surface occasionally.
Once reduced, strain through a fine sieve lined with muslin cloth into a bowl. Season with additional tomato ponzu and vinegar, salt and pepper, to taste. Strain through a fine sieve lined with paper towel to remove any fine solids into a clean saucepan. Reheat gently to serve.
For the Roasted Kohlrabi, trim the kohlrabi offcuts into batons 5-7mm thick and no longer than the width of the whiting fillets. Drizzle with oil, season with salt and roast in oven for 25 minutes or until edges of become quite heavily roasted and charred. Remove from the oven and set aside.
For the Geraldton Wax Oil, combine ingredients with along with a pinch of salt in a Thermomix and blend for 3 minutes on speed 6 to 40C. Strain mixture through a fine mesh sieve lined with paper towel into a bowl set over ice.
For the Pine Mushrooms, slice mushrooms into 5mm slices. Sear briefly in a pan over medium heat with a little grapeseed oil, just enough to lightly coat the mushrooms. Season with salt and sauté for about 1-2 minutes and remove from the heat allowing mushrooms to retain their texture.
For the King George Whiting, heat grapeseed oil in a frypan over high heat. Season the whiting and place into the pan skin side down.
As soon as the fillet is almost cooked through, flip in the pan then immediately remove from the pan and place onto a clean board. Season flesh with salt and allow to rest for a few minutes.
Cover the fillets with kohlrabi squares in a diamond pattern to resemble scales.
To serve, arrange mushrooms and roasted kohlrabi on the serving plates to create a bed for the whiting fillets. Carefully place the scaled whiting fillets on top. Insert Geraldton Wax leaves in between the scales. Pour hot broth into the bowls until it just reaches the whiting and drizzle with Geraldton Wax oil to finish.