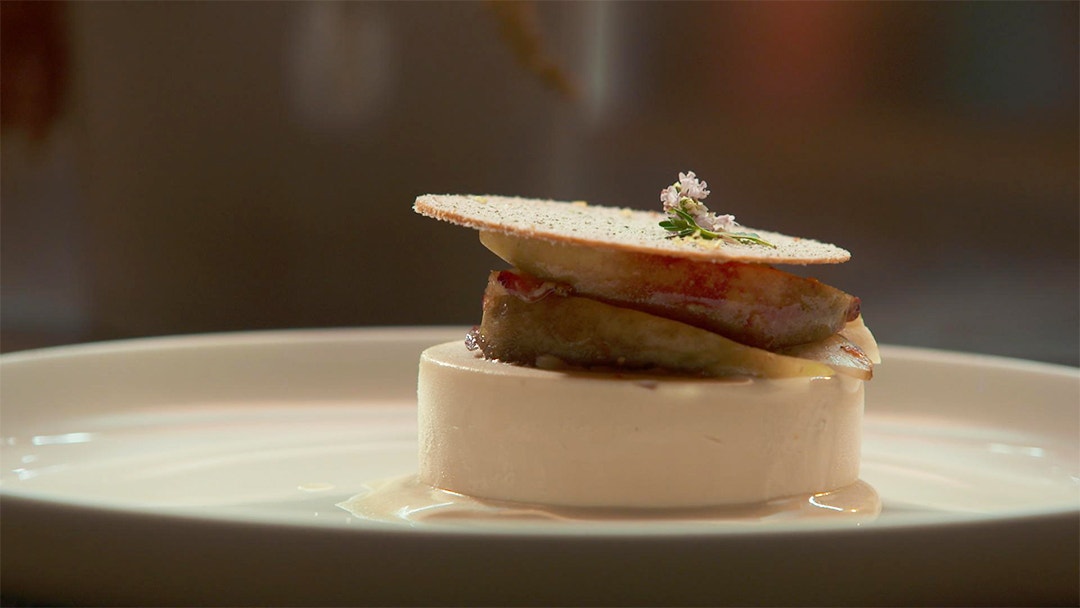 Ingredients
Caramelised and Fresh Figs
Steps
Preheat oven to 160°C fan forced.
For the Honey Parfait, fill a medium saucepan one third full with water and bring to a simmer.
Whisk honey, egg yolks and a small pinch of salt in a bowl until thoroughly combined.
Place the bowl over the simmering water, ensuring the bowl doesn't touch the surface of the water. Whisk the yolk mixture until the mixture is thick and pale about 2-3 minutes. Remove from the heat and allow to cool in the fridge.
Whisk the cream to soft peaks. Remove the egg mixture and whisk for about 20 seconds before carefully folding in the whipped cream.
Pour into four 7cm disc shaped silicone moulds and set in the freezer until frozen solid, about 4 hours.
For the Thyme Dust, combine all ingredients in a spice grinder and process to a powder. Set aside.
For the Thyme and Honey Tuiles, place the egg whites, flour, sugar and honey in bowl and whisk to a thick paste. Whisk in the melted butter, thyme leaves, vanilla and salt.
Place a silicone mat on a large, flat baking tray. Spoon about a third of the mixture onto the mat and spread in an even layer with a large offset spatula. The tuile should be spread thin enough to see the mat underneath.
Bake for 12-14 minutes, until the entire tuile is a rich, golden brown. Remove from the oven and allow to cool completely. Snap the tuile or cut it into the desired shape. Repeat with the remaining mixture.
Dust the tuiles with the Thyme Dust, a few thyme leaves and flowers and a light sprinkle of lemon zest. Set aside in an airtight container until ready to serve.
To prepare the figs, slice each fig into 12 wedges. Set 12 wedges aside in the fridge and reserve for serving fresh.
For the Caramelised Figs, combine lemon juice, vinegar and honey in a small bowl.
Stand 12 wedges of fig, skin side down, on a lined oven tray. Brush the honey mixture over the flesh of the figs and caramelise with a blow torch. Set aside in the fridge to cool.
To assemble, place 3 slices of fresh fig inside a 7cm cookie cutter and top with 3 of the caramelised fig slices. Press the figs gently into the circular shape of the cookie cutter before removing it. Repeat to make a total of 4 rounds.
To serve, unmould the honey parfaits onto individual plates and allow to soften slightly. Using a wide metal spatula, lift the fig rounds on to the parfaits. Top with thyme dust and tuiles and serve immediately.