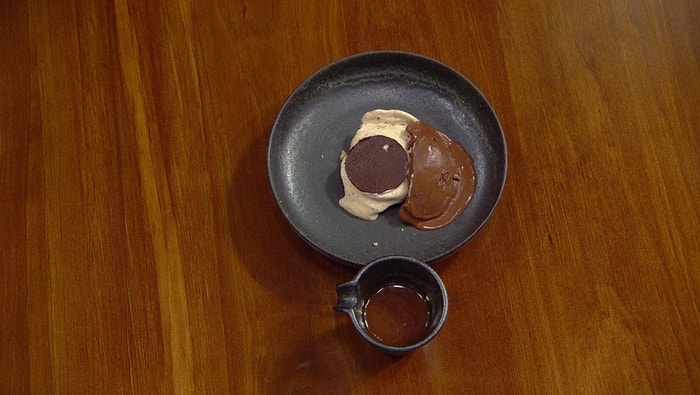 Steps
Preheat oven to 200C. Prechill ice cream machine.
For the Chocolate Sorbet, place chocolate in a bowl.
Place sugar, glucose and 400g water in a saucepan and bring to a boil. Remove from heat and pour over chocolate. Using a stick blender, blend until silky smooth. Pour through a fine sieve into a bowl and place over an ice bath to cool. Transfer to an ice cream machine and churn according to manufacturer's instructions. Place sorbet in freezer to set, until serving.
For the Toasted Hazelnut Parfait, place hazelnuts on a small tray and place in oven to toast until skins begin to lift and the nuts are golden brown, about 8 - 10 minutes. Remove from oven and place nuts into a clean tea towel and rub to remove skins. Set aside 50g hazelnuts for the Hazelnut Crunch. Place remaining 125g nuts into a food processor and process until they form a rough butter. Set aside.
Place cream in a bowl and whip to soft peaks. Set aside.
Place egg, yolks and sugar in the bowl of an electric mixer fitted with a whisk attachment and whisk until combined. Place bowl over a saucepan of simmering water and and beat with an electric mixer until the mix is light and fluffy, approximately 5-7 minutes. Remove from heat and allow mixture to cool. Add hazelnut butter and fold to combine. Add whipped cream and fold through. Add salt to taste, then transfer to a piping bag.
Pipe mixture into 8 x 7cm dome moulds and level surface with an offset spatula. Place in freezer until set and ready to serve.
For the Hazelnut Crunch, place all ingredients in a medium bowl. Using fingertips, bring mixture together. Spread over a baking tray and place in oven to bake until golden brown, about 15 minutes. Remove from oven and set aside until serving.
For the Eucalyptus Caramel, place cream in a small saucepan and warm gently over low heat.
Meanwhile, place sugar, eucalyptus drops and ¼ cup water in a small saucepan. Cook over medium heat until a dark caramel forms. Remove from heat, add cream and whisk until combined. Season with salt then set aside to cool, at room temperature, until serving.
For the Tempered Chocolate Disc, place 100g chocolate in a microwavable bowl and heat in microwave in 40 second bursts, stirring in between, until melted. Continue heating until 50C. Add remaining 20g chocolate and bring temperature down to 27C by folding and beating chocolate. Reheat chocolate gently and briefly to 31C. Spread thinly over a sheet of baking paper. Place in fridge to set.
Heat a 6.5cm metal ring over a flame then use it to cut out 8 discs from the chocolate. Set discs aside at room temperature until serving.
To serve, place some Hazelnut Crunch onto each serving plate and place a Hazelnut Parfait on top. Add a spoonful of Chocolate Sorbet and a Tempered Chocolate Disc and drizzle with Eucalyptus Caramel.