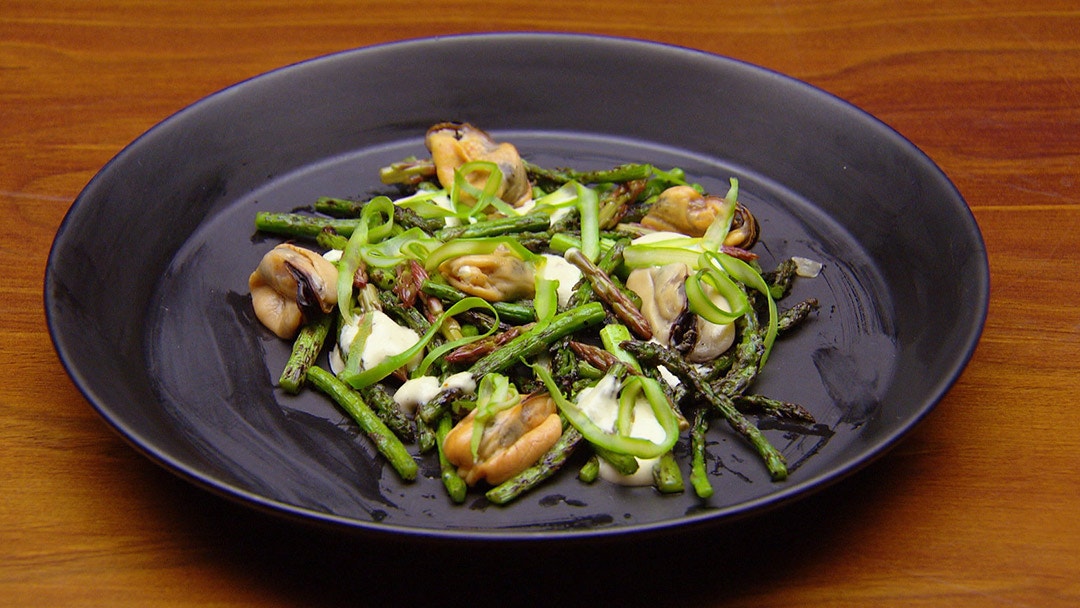 Ingredients
Pickled and Charred Asparagus
Steps
For the Asparagus, bring a medium saucepan water to the boil. Prepare an ice bath in a medium bowl.
Shave 6 spears asparagus and blanch in the boiling water. Remove the asparagus and place into the iced water. Set aside then drain well to serve.
Combine vinegar, sugar, lemon juice, salt and 50ml water in a small saucepan. Cut away the tops from 16 asparagus and place into the pickling liquid. Set aside until ready to serve. Drain well.
Chop the 16 asparagus bases and remaining 12 whole spears into 4-5cm lengths. Drizzle with oil and season with salt. Place onto a wire cooling rack over an open flame and cook until charred but not burnt. Remove from the heat and set aside.
For the Smoked Mussels, place the olive oil into a small saucepan over low heat. Add the onion and garlic and cook until soft and golden. Add 100ml wine and bring to the boil.
Add the mussels, cover with a lid and steam until they open then remove from the saucepan and place into a bowl. Add the remaining wine to the saucepan and simmer until liquid has reduced to 300ml. Remove from the heat and set aside to cool for the Mussel Emulsion.
Remove mussels from the shells, place into a bowl and cover with cling film. Using a smoking gun, fill the bowl with smoke, reseal the cling film. Set aside to smoke for 10 minutes. Uncover the bowl and set aside.
For the Mussel Emulsion, place ingredients, along with the onion and garlic, into the canister of a stick blender and process until combined. Season with salt, to taste.
To serve, arrange asparagus elements over each plate. Top with Smoked Mussels and add some Mussel Emulsion. Serve with lemon cheeks.
Notes
Simon's grilled asparagus with smoked mussels is finished nicely with a silky Mussel Emulsion.