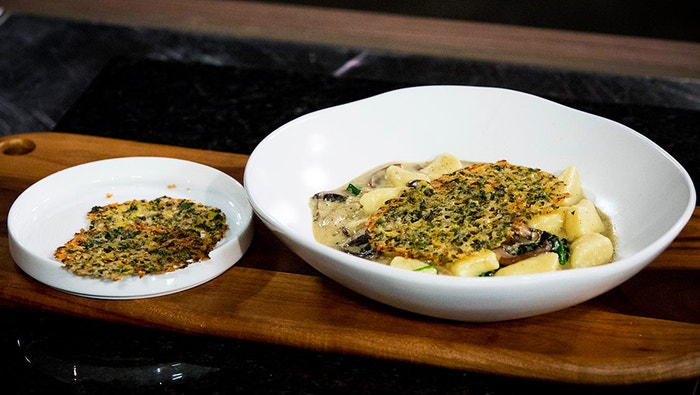 Steps
Preheat oven to 200C.
For the Parmesan Crisps, line a large baking tray with baking paper.
Place grated Parmigiano, parsley, garlic, lemon zest and black pepper into a bowl and mix well to combine. Sit a 7cm ring mould onto the pre-lined baking tray. Spoon a tablespoonful of the Parmesan mixture into the mould and use a spoon to spread out the mixture evenly. Carefully remove mould and repeat this process with remaining mixture, ensuring crisps are spaced 5cm apart from each other.
Place tray into the oven and bake until light golden in colour, about 6-8 minutes. Remove from oven and set aside on the tray for 2 minutes to cool slightly. Use an offset palette knife to carefully remove the crisps from the tray and place onto a cooling rack to cool completely.
For the Gnocchi, place potatoes into a medium saucepan of cold water and cover. Place saucepan onto high heat and bring to the boil. Once boiling, reduce heat to medium and continue to cook until soft, about 25-30 minutes. Drain potatoes and set aside to cool.
Meanwhile, bring a large pot of salted water to the boil.
When potatoes are cool enough to handle but still warm, peel then pass through a rice masher into a large bowl. Add a pinch of salt, egg, 200g of the sifted flour and gently mix through. Add additional sifted flour only as needed and gently mix together until the dough is very soft but cohesive. Roll dough onto lightly floured surface, add little more flour if it still sticky and lightly knead into an oval shape, careful not to overwork the dough.
Cut dough into quarters and roll each into a 2cm wide log, then cut on an angle to create 2-3cm sized diamond shapes. Sprinkle a very light layer of flour over the shapes and, using a dough scraper, gently flick each piece to separate and place onto a lightly floured tray. Repeat with the remaining dough and set aside on tray until needed.
For the Gorgonzola Sauce, place butter and garlic into a large frypan over medium heat. Add mushrooms and cook, stirring until caramelised and softened slightly, about 5-7 minutes. Add spinach, nutmeg and cream and heat through until the spinach has wilted. Stir in the gorgonzola and cook until melted through and sauce is only slightly bubbling. Remove from heat and set aside, keeping warm.
Place gnocchi, in batches, into the preheated saucepan of boiling salted water. Cook until gnocchi rise to the surface then scoop out and add to the pan of Gorgonzola Sauce. Stir gently to coat gnocchi in the sauce and season.
To serve, spoon Gnocchi and Gorgonzola Sauce onto serving plates. Top with Parmesan Crisps and serve immediately.