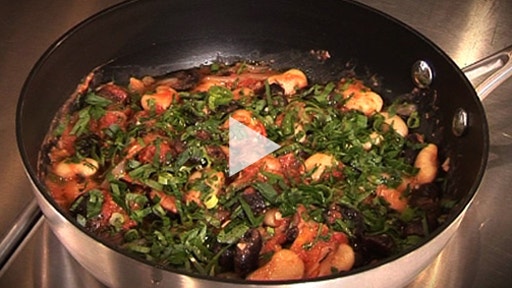 Steps
Place beans in a large ceramic bowl, cover with cold water and set aside for 12-24 hours to soak. Drain well, rinse and drain again.
Cover base of large frying pan with extra virgin olive oil and heat over high heat, add the beans, onion, garlic, carrot, celery, thyme and bay leaves, stir to coat. Pour over the chicken stock and add the tomatoes. Reduce heat to low, cover and simmer 2 hours or until beans are tender.
Drizzle both sides bread with olive oil and char-grill until toasted. Remove hot toasted bread to a board and rub with cut side of the garlic.
Taste the beans, adjust the seasoning as required. Remove the thyme and bay leaves. Crumble over the feta, scatter over the mint leaves and parsley. Serve with bread.
Notes
Serving suggestion: poke Gary's cooked pork and fennel sausages into the baked beans and serve.
Note: we used mixture of large white lima beans and black beans from health food store