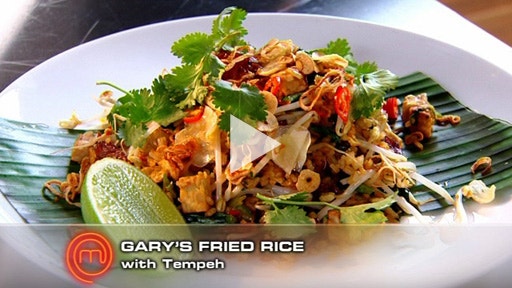 Steps
Combine rice, water, pinch salt and 1 tsp oil in a saucepan. Bring to the boil over high heat. Reduce heat to low, cover and cook for 6 minutes. Remove from the heat, set aside without removing the lid for 10 minutes to complete the cooking. Spread the rice onto a tray, cover and refrigerate overnight.
For the pickled ginger, combine the sugar and vinegar in a saucepan. Add ginger and bring to the boil. Simmer for 5 minutes. Then set aside to cool.
Heat wok until hot. Add oil, half the ginger, half the garlic and egg and stir until cooked. Transfer to a plate. Wipe the wok clean then add a little more oil with remaining ginger and garlic. Add lup cheong and cook until oil has rendered from sausage. Add tempeh and stir-fry until well coated. Add chinese broccoli, mustard greens and rice, cook over medium heat until warmed through. Add chilli and return egg and sprinkle over the dash. Add soy, spring onions and bean sprouts and remove from the heat. Stir through coriander leaves, deep fried shallots and fried garlic.
Flash the banana leave over gas flame for a few seconds and place onto serving plate. Spoon over the rice, top with few pieces of pickled ginger, fried shallots, garlic and coriander, serve with lime.