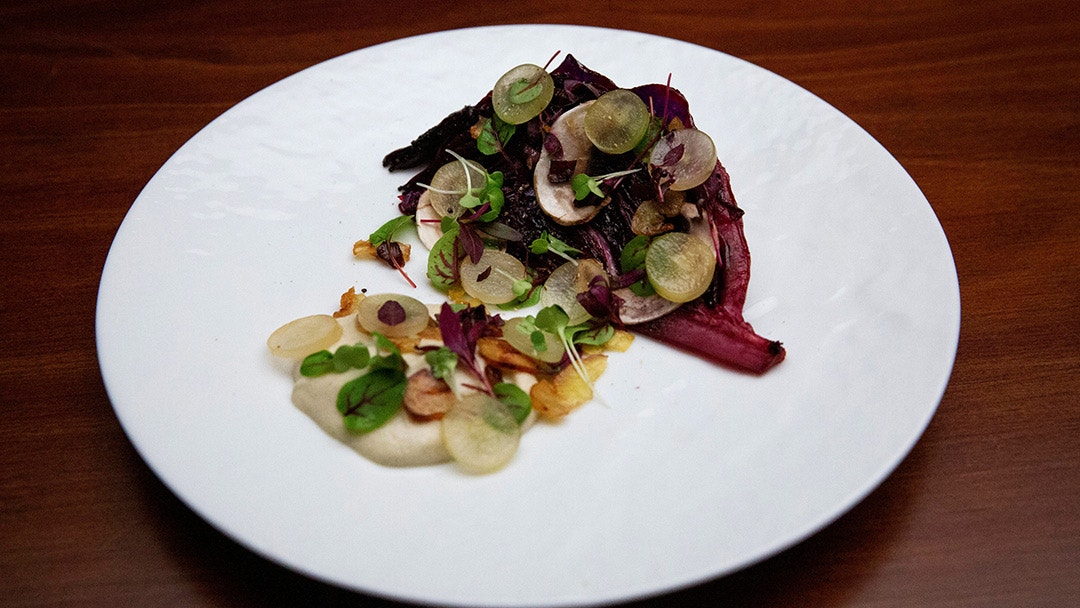 Steps
Preheat oven to 180C.
For the Pan Fried Cabbage, place the oil into a large frypan over medium heat. Once hot, add the cabbage wedges and cook until slightly charred on one side.
Add the verjuice and simmer until reduced by half. Add approximately 500ml water, cover with a lid and cook for 15 minutes. Remove the lid, turn the cabbage over and cook until the liquid has evaporated and the cabbage is tender and caramelised. Remove from the heat.
When ready to serve, return the cabbage to a medium heat. Season with salt and pepper and add butter to pan. Turn cabbage in pan until coated. Remove from the heat.
For the Chestnuts Chips, heat oil in a medium saucepan to 180C.
Cut a cross into the base of the chestnuts and place onto a tray. Roast in the oven until skins start to peel, about 10 minutes. Remove from the oven and set aside to cool slightly.
Peel then shave the chestnuts on a mandolin. Fry in the hot oil until lightly golden. Remove from the oil and set aside on paper towel.
For the Artichoke and Leek Puree, place the artichokes, leeks and 100g butter into a medium frypan over low heat. Cook, stirring regularly, until soft and starting to colour but not brown. Add the milk and thyme and cook on low until reduced by three quarters.
Transfer the parsnip to a blender, reserving the milk in the saucepan. Add the remaining 50g butter and process until smooth. Season with salt and pepper to taste then pass through a sieve. Set aside.
To serve, place the Pan Fried Cabbage wedges onto the plates. Add some Artichoke Puree and scatter with Chestnut Chips, grape and mushroom slices and micro herbs.