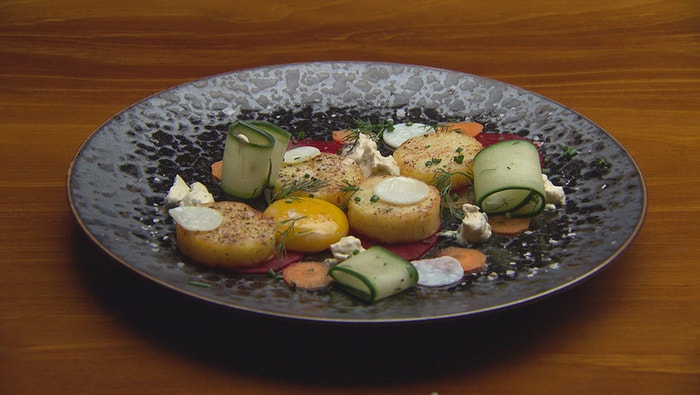 Steps
Preheat sous vide machine to 63°C.
For the Pickled Beetroot, Carrot and Cucumber, combine the vinegar, crushed peppercorns, sugar, dill and salt in a small bowl. Whisk until combined and sugar has dissolved. Set aside.
Using a mandolin, thinly slice the peeled beetroot and place into a small bowl.
Using a mandolin, thinly slice the peeled carrot and place into a separate small bowl.
Using a mandolin, thinly slice the cucumber, lengthways, avoiding the seeds and place into a separate small bowl.
Divide the pickling liquid between the 3 bowls of vegetables. Set the bowls aside to allow the vegetables to pickle.
For the Potato Fondants, place a medium pot of water over medium heat and bring to the boil.
Slice the potatoes in half, lengthways, to about 2cm thick. Using a 5cm round cookie cutter, cut 2 rounds from each slice to produce 16 rounds. Place potato rounds into the saucepan of boiling water and boil until just tender, about 10-12 minutes, then drain.
Place the butter into a medium frypan over medium heat and melt. Add the boiled potato rounds and poach until lightly crisped and golden on each flat side, about 4-5 minutes per side. Remove from the heat, season with salt and set aside.
For the Gently Poached Egg Yolk, prepare 4 small sous vide bags. Divide the olive oil between the bags then gently place an egg yolk into each bag, careful not to break the yolk. Seal the bags then place into the water bath at 63°C for 20 minutes. Remove from the water bath and place the sous vide bags into an ice bath. Set aside.
For the Dill Mustard Mousse, combine all ingredients in a small bowl and whisk to stiff peaks.
For the Egg White Discs, add the oil to a large frypan and place over a low heat. Add the egg whites, keeping separate, and cook until set but not crisp on the base, about 2 minutes. Remove from the pan and place onto a baking tray lined with baking paper. Using a 2cm round cutter, cut discs from the egg whites, season with salt and set aside.
To serve, place Pickled Beetroot slices randomly through the centre of each plate. Arrange Pickled Carrots around the Pickled Beetroots, then place 3 Potato Fondants in the centre of each plate. Roll the Pickled Cucumbers into short cylinders and place between the fondants. Place a Gently Poached Egg Yolk onto each plate and season with salt and pepper. Scatter Egg White Discs around the plate. Add small dollops of Dill Mustard Mousse in between the elements. Sprinkle finely chopped chives and dill over the dish.