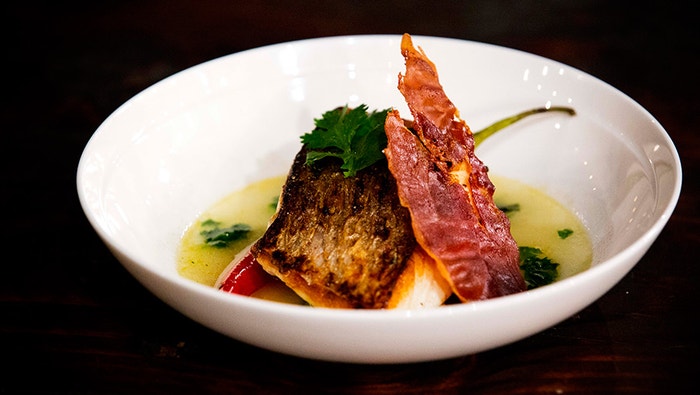 Steps
Preheat oven to 180C.
To make the Chilli and Coriander Broth, heat oil in a large saucepan and fry fish bones until white, about 4-5 minutes. Add chilli, garlic and coriander and sweat off for a further minute. Add fish stock and 500ml of water to saucepan and bring to the boil. Cook until slightly reduced, about 15 minutes.
Remove stock from heat and strain through a muslin cloth into a clean saucepan. Season with sugar, vinegar and salt to taste. Simmer for a further 5 minutes then set aside, keeping warm.
To make the Prosciutto Shard, line a baking tray with baking paper. Lay prosciutto slices onto tray and cover with another sheet of baking paper, place a second baking tray on top to weigh down and bake in the oven until crisp, about 15 minutes. Remove from oven and set aside.
To make the Roasted Chillies, line a baking tray with baking paper and spread chillies onto tray. Drizzle with oil, season with salt and pepper and place into the oven until chillies begin to blister, about 10-15 minutes. Remove from oven and set aside.
To make the Coriander and Chilli Salad, cut chillies in half, discard seeds then finely chop chillies and place into a bowl. In a separate bowl, whisk oil, vinegar and sugar until emulsified, pour over salad and toss to coat. Set aside.
To make the Coriander Oil, bring a small saucepan of water to the boil and prepare an ice bath. Blanch coriander in boiling water for 30 seconds, then remove and place into ice bath. Remove coriander, squeeze out excess water and place into a food processor with oil and process until combined. Set aside.
To cook the Crispy Skin Snapper, cut each fillet into two. Pat skin dry and season with salt. Place 1tbspn grapeseed oil into a cold frypan, add fish, skin side down and coat skin in oil and place frypan on a high heat. Cook until skin is crisp, about 3-4 minutes, then flip to seal other side. Add butter and thyme to pan and place into oven until fish is almost cooked through. Remove from oven and rest for 5 minutes.
To serve, spoon some chilli and coriander salad in the centre of serving bowls, add the roasted chillies to each dish and top with a portion of snapper. Spoon coriander oil around salad and surround with hot chilli and coriander broth. Finish with the prosciutto crisp and coriander.