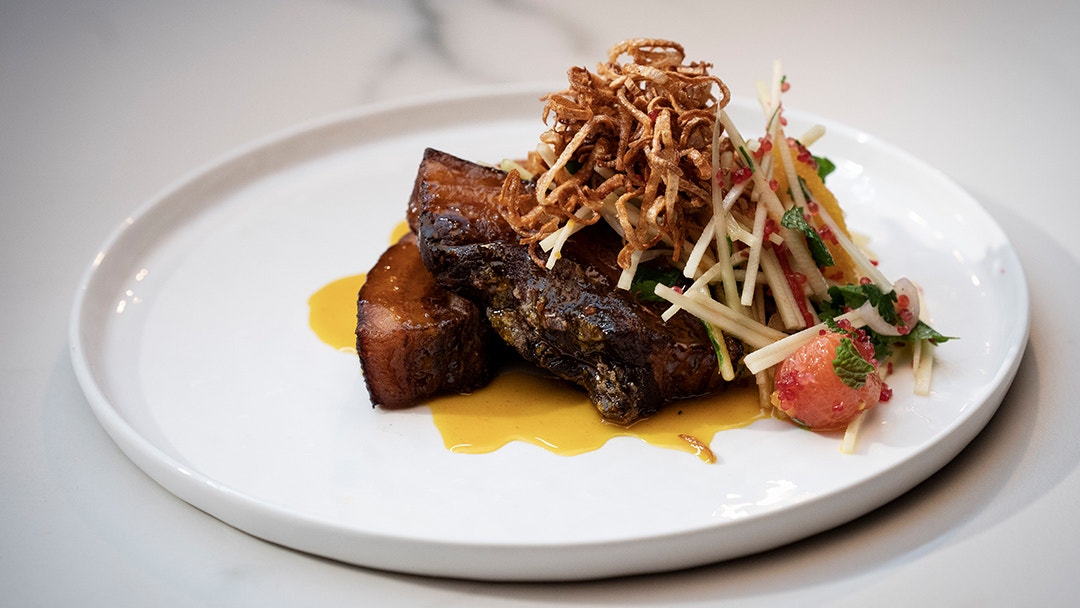 Steps
For the Crispy Pork, place ingredients, except tapioca, into the bowl of a pressure cooker. Seal and cook under high pressure for 30 minutes.
Remove pork and place into a bowl. Spoon some cooking liquid over the top and place into the fridge to chill.
When ready to serve, heat oil in deep fryer to 180°C.
Remove pork from liquid and place on paper towel. Pat dry with paper towel then roll in tapioca flour. Shake off excess then carefully place pork into hot oil. Cover with the lid and cook pork until skin has puffed and is crisp, about 5-6 minutes. Remove from the oil and set aside on paper towel.
For the Citrus Caramel, place turmeric, ginger, lemongrass and chilli into a food processor and blend to a paste.
Place into a saucepan over low heat. Sauté for 5 minutes. Add orange juice and palm sugar then simmer for 25-30 minutes. Add fish sauce and lime juice then pass through a fine sieve into a bowl. Set aside.
For the Salad, combine lime juice, palm sugar and fish sauce in a bowl then set aside. Roast cherry tomatoes over a flame until charred. Peel then place into a bowl. Add remaining ingredients and dressing and toss together. Set aside.
For the Crispy Shallots, add shallots to the deep fryer and cook until golden brown, about 2 minutes. Remove from oil with a slotted spoon and place onto paper towel.
To serve, place the pork belly on plates then pour over citrus caramel, add salad and top with crispy shallots.