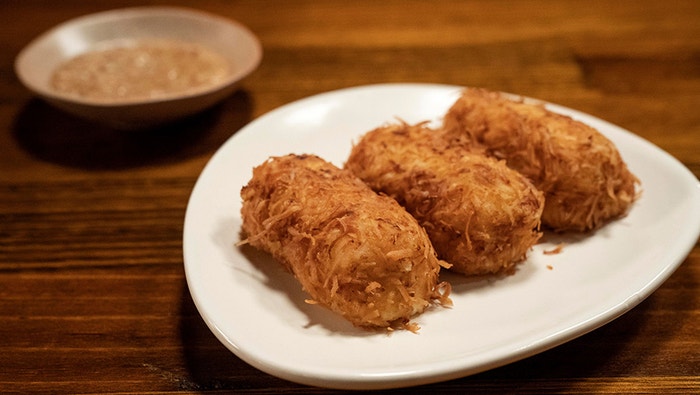 Steps
Preheat the oven to 180C. Preheat oil in a deep fryer to 180C.
For the Crab Croquette, break down the crabs and pick out the meat, discarding the shells and gills. Set aside.
Place the butter in a frypan and place over medium heat. Once melted, add 20g of the flour and cook, stirring for 3 minutes. While whisking, slowly add the milk and continue whisking until a smooth consistency.
Add the crab meat, salt and pepper and cook for a further 3 minutes until crab is cooked through. Remove from the heat and transfer to a bowl. Allow to cool then set aside in the fridge until cooled completely.
Bring a small saucepan of water to the boil. Carefully add the quail eggs then simmer for 3 minutes. Remove from the heat and place into a bowl of cold water. Once cool, remove the eggs, peel and set aside.
Using a coconut grater, remove the flesh from the coconut half. Place into a clean tea towel and squeeze to remove all moisture. Spread the coconut out over a baking tray and place into the oven until lightly golden. Remove from the oven and set aside to cool.
To shape the croquettes, divide the mixture into 8 equal portions. Working with one portion at a time, spread crab mixture onto a sheet of cling film. Place a peeled quail egg into the centre and use the cling film to wrap the crab mixture around the egg and roll into a small low shape. Repeat with the remaining mixture and eggs to make a total of 8 croquettes.
Place the remaining 80g flour into a bowl. Place the eggs into a second bowl and whisk. Roll each the croquette in the flour, dip into the egg then roll into the cooled coconut to coat. Set the croquettes aside in the fridge.
For the Peanut Sauce, spread the peanuts out on a baking tray and bake until golden brown, about 8-10 minutes. Remove from the oven and set aside to cool.
Transfer the peanuts to a food processor and pulse until roughly ground. Transfer to a small saucepan. Add the caster sugar and 150ml water and bring to a simmer over medium heat. Add the vinegar, salt and pepper and continue to simmer until the sauce has thickened, about another 5-7 minutes. Remove from the heat and transfer to a serving bowl.
To cook the croquettes, remove the croquettes from the fridge and place in the hot oil. Fry until golden, about 2 minutes. remove croquettes fro the oil and place onto paper towel to drain. Season with salt and serve with the Peanut Sauce.