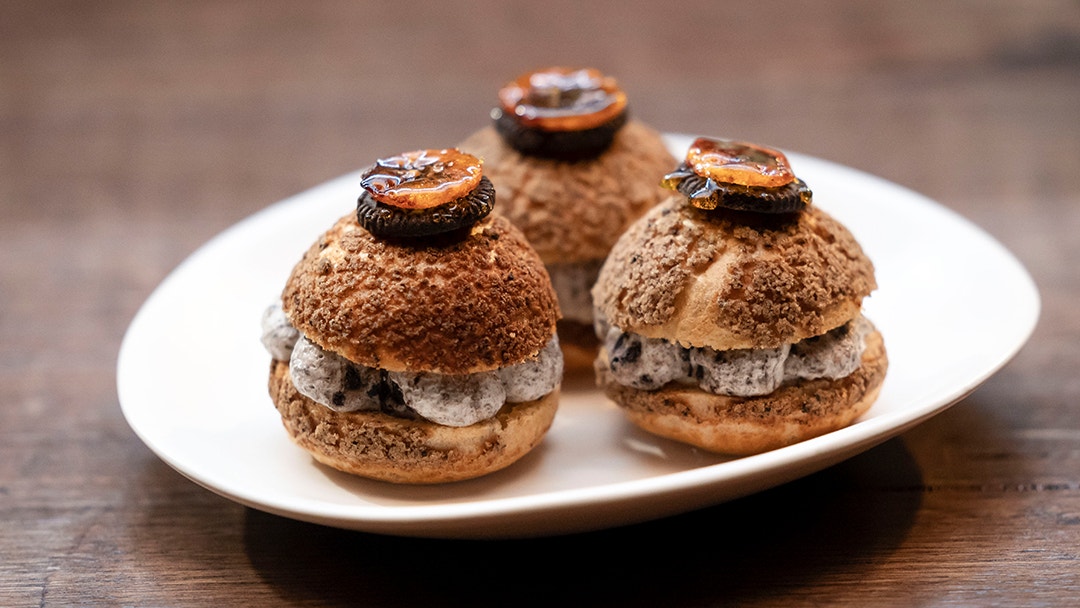 Steps
Preheat oven to 180°C fan forced.
For the Oreo Craquelin, place ingredients into a small food processor and pulse to a dough.
Turn out onto a piece of baking paper, cover with a second sheet of baking paper. Roll out to 2mm thickness, then reserve in the freezer to firm up until required.
For the Candied Mandarin, place baby mandarin slices onto a tray lined with baking paper.
Sprinkle over half the sugar to completely coat. Place into oven and bake for 7 minutes.
Remove from oven and flip the slices over, then cover with the remaining sugar. Return to oven until candied, about 5 minutes. Remove from oven and allow to cool slightly. Place a slice onto an Oreo biscuit and set aside.
For the Choux, place butter, water, milk, sugar and salt into a saucepan. Bring to almost a boil, then stir in flour.
Continue stirring over heat until mixture comes away from sides, around 2-3 minutes.
Transfer to the bowl of a stand mixer and beat on medium speed until steam dissipates, about 2 minutes. Beat in eggs, one at a time, until mixture is thick and glossy.
Line 2 large trays with baking paper, then pipe out about 40 x 3cm diameter rounds, keeping them spaced apart.
Remove craquelin from freezer and using a 3.5cm round cutter, cut out rounds and place on top of piped choux.
Bake in oven for 30 minutes or until golden and well risen. Prop door slightly ajar and allow to cool.
For the Baby Mandarin Caramel, place the mandarins, sugar and water into a saucepan. Cook over medium heat until mixture caramelises and is amber in colour.
Pour in cream and stir over heat until combined. Remove from heat and stir in butter and salt. Process with a stick blender until smooth. Pass through a fine sieve and allow to cool. Transfer to a piping bag and set aside.
For the Oreo Cream, whip the cream and sugar to almost stiff peaks then place in fridge to firm.
Crush the Oreo biscuits so that some chunks still remain. Fold the crushed Oreos through the cream, then place in piping bag and set aside in fridge.
To assemble, cut the choux buns in half horizontally, then pipe in a teaspoon of the mandarin caramel. Pipe the Oreo cream on top, then cover with the bun top. Garnish with candied baby mandarin rounds, using a little caramel or cream to attach.