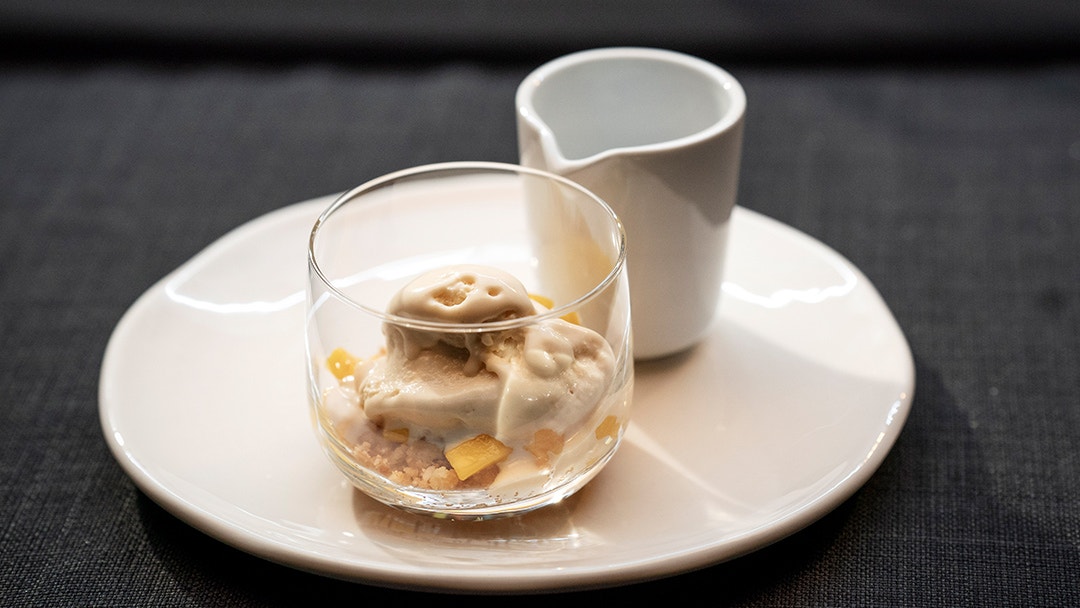 Ingredients
Tapioca and Brown Sugar Syrup
Steps
Prechill ice cream machine. Preheat oven to 180°C.
For the Coconut Ice Cream, place coconut onto a lined tray and bake until deep golden, about 10 minutes, stirring often to ensure even browning. Set aside.
Place cream and milk into a small saucepan and bring to the boil. Remove from the heat and add toasted coconut. Set aside for 30 minutes.
Place egg yolks and sugar into a bowl and whisk until lightened in colour.
Pass the coconut and milk mixture through a fine sieve. Measure out 500ml of the milk and return to the saucepan. Add glucose syrup and place over high heat and bring to the boil. Remove from the heat.
While whisking continuously, add to the egg mixture. Return to the saucepan and stir continuously over medium-low heat until mixture reaches 84°C.
Pour through a fine sieve into a large bowl and cool over an ice bath.
Churn in ice cream machine according to manufacturer's instructions and reserve in the freezer until needed.
For the Tapioca Pearls in Brown Sugar Syrup, place tapioca and 2L water in a medium saucepan. Bring to simmer then cook for 10 minutes (or according to packet instructions) until pearls are translucent. Strain through a fine sieve and rinse gently but thoroughly to remove excess starch.
In the meantime, place sugar and water into a saucepan over medium heat. Stir to dissolve sugar then simmer for 3-4 minutes until reduced slightly. Remove from the heat and allow to cool.
Add cooked tapioca pearls to the syrup and set aside in the fridge until ready to serve.
For the Macadamia Crumb, place ingredients into a food processor and process to a rough dough.
Flatten out over a lined baking tray. Cook in the oven until golden brown, about 20-25 minutes. Set aside to cool.
For the Pickled Mango, place water, vinegar, sugar and salt into a small saucepan and bring to a boil. Pour over mango and place into the fridge to cool and pickle. Drain well to serve.
To serve, spoon crumb into bowls or glasses. Add drained pickled mango and top with a scoop of ice cream. Spoon tapioca pearls and syrup over the top and serve immediately.