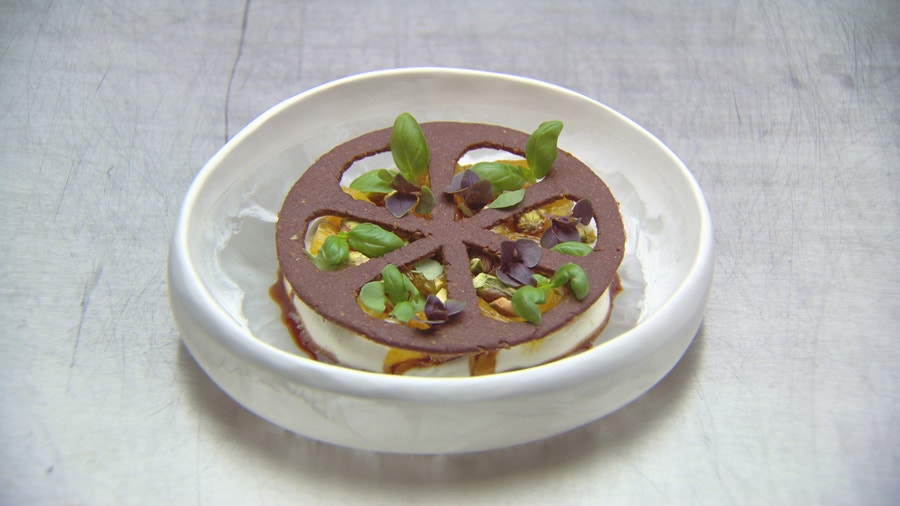 Ingredients
Cocoa Pistachio Pâte Sablée Disk
Steps
For Cocoa Pistachio Pâte Sablée Disk, combine plain flour, caster sugar, pistachio meal, cocoa and table salt in a food processor and pulse to roughly combine. Add the butter and orange zest and pulse until sandy. Add the eggs and process until the mixture begins to come together.
Transfer pastry to a clean work surface and bring together. Pat into a thick disk, cover in plastic wrap and refrigerate for 15-30 minutes for easier handling but it is not necessary for this pastry.
Preheat the oven to 160ºC fan forced and line an oven tray with baking paper.
Unwrap the rested dough. Dust work surface and chilled dough with extra flour. Use a rolling pin to roll pastry to 2mm thickness. Use a 10cm round cutter to cut 6 disks from the pastry. Use a small sharp knife to cut small segments out of the pastry to look like a slice of orange.
Chill for 10 minutes in the freezer if time allows. Bake for about 7 minutes or until the pastry is cooked. Remove tray from the oven and cool pastry on the tray.
For the Orange & Basil Salad, peel and segment the oranges. Place orange in a small bowl and toss in a little icing sugar if you'd like.
In a medium bowl, combine yoghurt, mascarpone and vanilla and whisk to just combine.
To assemble, place a large dollop of the mascarpone yoghurt mixture on each serving plate. Arrange about 7 orange segments evenly on top. Dot the balsamic over. Finish with a sprinkling of pistachios. Carefully pop disk gently on top to conceal the contents. Garnish with a few sprigs of micro basil.