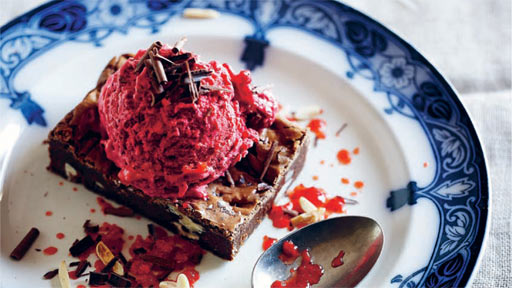 Steps
Preheat the oven to 170ºC.
Melt the chocolate with the butter and vanilla. Do this in the microwave, or in a metal bowl set over a smaller saucepan of boiling water, ensuring the base of the bowl does not touch the water.
Stir until smooth. (Glove up and mind the steam if you use the saucepan method.)
When smooth, remove from the heat. Stir in the sugar until it has dissolved into the chocolate.
Now whisk in first one egg and then the next. Mix the flour, baking powder and salt together. Sift a little of this mixture onto the chocolate mixture and fold it in. Keep going until all the flour is incorporated.
Now it's time to add the bling! Butter a low-sided metal slice tray and line with a sheet of baking paper, extending it beyond the long sides of the tray to act as a sling to lift the brown out of the tin.
Spoon the mixture into the tin and sprinkle with a few grains of flake salt. Bake for 25–30 minutes, which means the brownie will have risen, the top will look shiny and cracked in places and if you jab it with a skewer in the middle it will still come out a bit sticky and fudgy. Cook longer if it's still sludgy and wet.
Remove from the oven and leave to cool in the tin. Cut into squares and eat.
Notes
I'm torn between these classic brownies and the sultry and rather exotic malty lure of Tehan's Fabulous Brownies, aka The 'Other' Brownie. To make these, melt 310g butter and 250 g grated dark chocolate in a saucepan. When melted, add 370 g (2 cups) brown sugar and 5 eggs. Then add 185 g (1¼ cups) plain flour, ¼ teaspoon baking powder, 60 g cocoa and mix. Lastly add 1 cup malt powder (aka Horlicks) and 170 g (1 cup) chocolate chips. Pour into a low-sided metal slice tray lined with baking paper. Bake for 50 minutes at 160ºC.