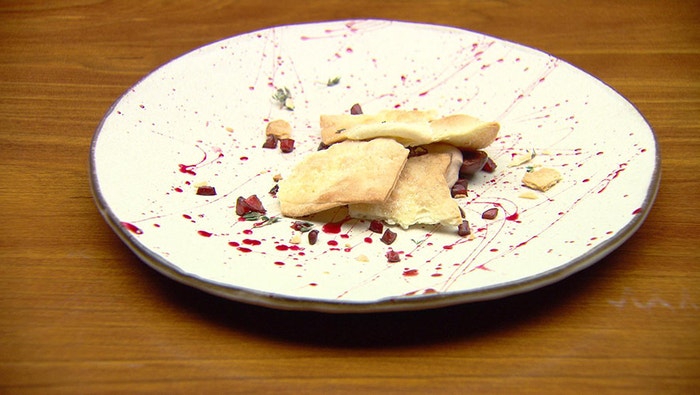 Steps
Preheat over to 200C.
For the Chicken Liver Parfait, place olive oil in a frypan and set over high heat. Season livers with salt and pepper and add to hot pan. Add 20g butter and thyme and fry until livers are brown on both sides, basting with the butter. Deglaze frypan with Marsala, then remove livers and place in a food processor. Simmer the liquid in the pan to reduce for 1 minute. Transfer pan juices to the food processor and blend whilst adding the remaining butter and cream. Process until completely smooth then season to taste. Place into a greased and lined small shallow baking tray, cover with cling wrap and place in fridge until set.
Remove set parfait from fridge and transfer to a bowl. Whisk until a light texture. Transfer to a piping bag and set aside in fridge, until serving.
For the Olive Oil Cracker, place all ingredients into a food processor. Add ¼ cup water and process until mixture resembles coarse breadcrumbs. Tip onto a floured work surface and knead until a smooth dough, about 8 minutes. Wrap dough in cling wrap then place in fridge, to rest for at least 15 minutes.
Roll out rested dough to 1mm thick, prick surface with a fork and place onto a lined baking tray. Place in oven to bake until golden brown, about 12 minutes. Remove from oven and allow to cool. Break into shards and set aside in an airtight container, until serving.
For the Sour Cherry Syrup, place cherries, sugar, vinegar and thyme into a saucepan. Add ¼ cup water and stir to combine. Place over medium heat and bring to a boil. Reduce heat and allow to simmer until syrup thickens, about 10-15 minutes. Strain, season syrup and set aside until serving.
To serve, spatter the syrup onto each serving plate with a fork. Add a teaspoon of Sour Cherry Syrup to the centre of the plates. Scatter diced cherries and thyme leaves over the plate then pipe Chicken Liver Parfait into the centre of the plate. Place Olive Oil Cracker shards over the top of the parfait to serve.