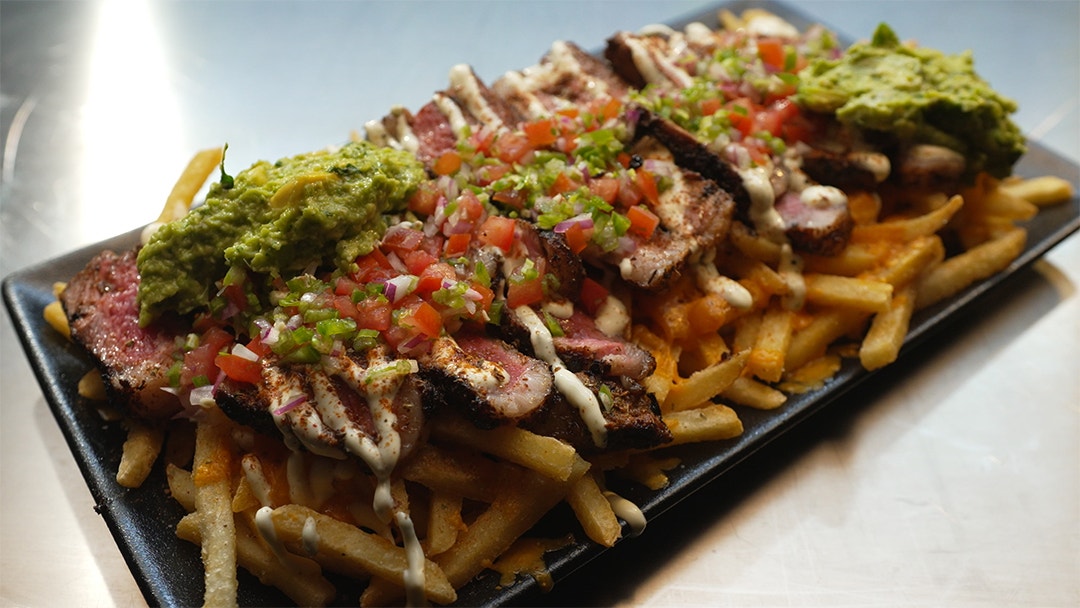 Steps
Pre heat a deep fryer to 180°C.
Pre heat oven to 180°C.
For the steak rub, toast cumin seeds and coriander seeds in a dry frypan until lightly fragrant. Transfer toasted seeds to a mortar and pestle and grind to a powder.
Combine ground seeds with remaining ingredients.
Rub sirloin steak with steak rub, reserving 2 tablespoons for later use.
To Cook the Steak, heat a medium frypan over high heat. Once hot, lightly oil the pan and add steak. Cook for approximately 3 minutes each side until steak is medium rare.
Remove from heat and let rest for 3 -4 minutes then slice into 1cm slices.
For the Guacamole, combine all ingredients in a mortar and pestle and crush until a chunky paste. Transfer to bowl and set aside.
For the Pico De Gallo, combine jalapeno, Roma tomatoes and red onion in a bowl. Stir through coriander and season with lime juice, salt and pepper. Transfer to a bowl and set aside.
For the Sour Cream, combine all ingredients in a bowl and stir to combine. Transfer to a squeeze bottle and set aside.
To assemble, fry shoestring fries in the deep fryer until golden. Place fries onto an oven safe serving plate and sprinkle with reserved steak rub. Sprinkle the cheddar cheese over the top. Place in the oven to melt cheese.
Remove plate of chips from the oven and arrange the steak over the top of the fries. Drizzle with the sour cream and garnish with a generous spoonful of pico de gallo, 2 generous spoonsful of guacamole, fresh coriander and lime wedges.
Serve remaining pico de gallo and guacamole in ramekins on the side.