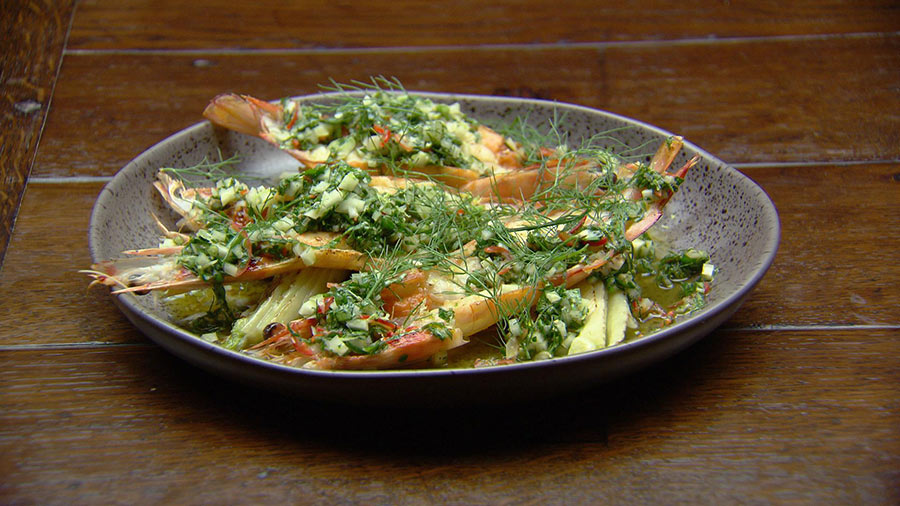 Ingredients
Fennel, Chilli and Lime Salsa
Steps
For the Poached Fennel, place olive oil, vinegar, onion, chillies, lime slices and parsley stalks in a medium saucepan. Set over medium heat and bring to a simmer. Reduce heat, add fennel quarters and cover with a cartouche. Cook, very gently, until just tender, about 25-30 minutes. Remove from heat.
Place a griddle pan over high heat. Remove poached fennel from poaching liquid, reserving liquid for Grilled Prawns and place on hot griddle pan. Char fennel on both sides, remove from pan, season and set aside, keeping warm, until serving.
For the Fennel, Chilli and Lime Salsa, place all ingredients in a bowl and mix well to combine. Set aside until serving.
For the Grilled Prawns, return griddle pan to high heat. Butterfly prawns by cutting in half lengthways, along the underside of the prawns, without cutting through the shell. Brush the flesh with poaching liquid and season with salt and pepper. Place prawns on hot pan, and char, pressing down with a spatula for 1 minute on each side. Remove from pan and set aside until serving.
To serve, place 3 pieces of fennel and 3 prawns on each serving plate. Spoon salsa over and garnish with fennel fronds.