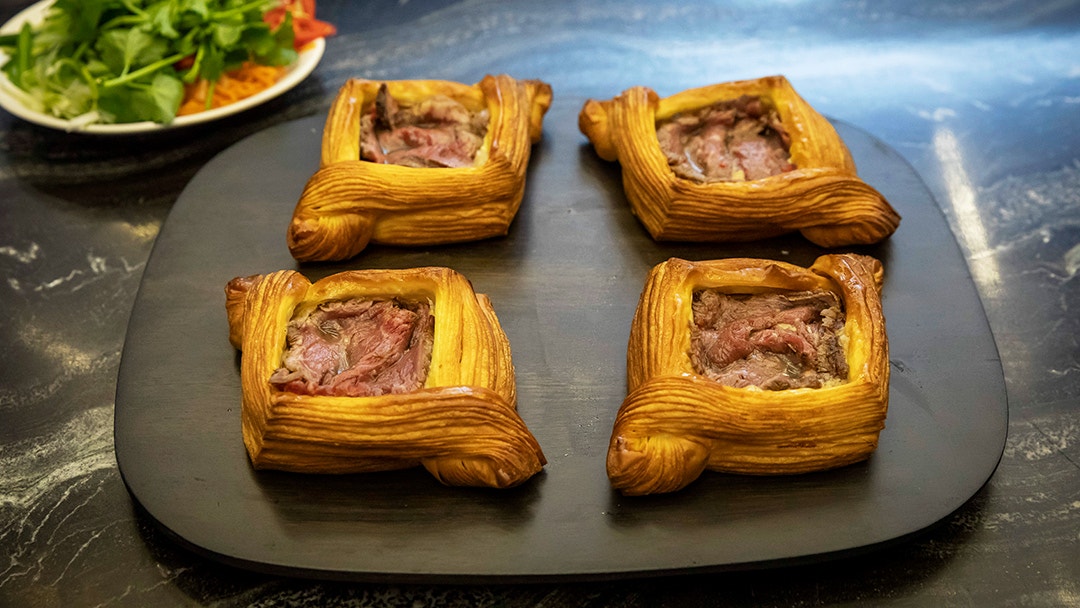 Ingredients
Vietnamese Mayonnaise Butter
Pickled Carrots and Radish
Steps
For the Vietnamese Mayonnaise Butter, heat 1 tablespoon oil in a saucepan, add shallots and cook for 5 minutes. Strain into a bowl to cool.
Place egg, egg yolks and salt into the canister of a stick blender. Slowly pour oil into the canister and allow to oil to settle on top for a few minutes.
Place the stick blender into the base of the canister and process until mixture in the base of the canister starts to thicken and whiten. Continue to blend and very slowly draw stick blender up through the ingredients until thick and emulsified. Add the cooled shallots and blend until combined. Season with salt to taste then transfer to a piping bag and refrigerate until required.
For the Mushroom Pate, place oil, onion and garlic into a pan and cook until soft and tender.
Add 1 tablespoon butter and the mushrooms to the pan and fry until dark and golden, about 10-15 minutes. Remove pan from heat and set aside to cool for 5 minutes.
Transfer the mushroom mixture to a food processor and process until smooth. Add the remaining 230g butter, a piece at a time, blending until smooth. Pass the pate through a sieve and add black pepper and fish sauce, to taste. Transfer pate to a piping bag and refrigerate until required.
For the Nuoc Mam Marinade, combine ingredients in a bowl and stir until well combined.
For the Lemongrass Beef, place lemongrass, sesame oil, oil and salt into a food processor and process to a smooth paste.
Brush lemongrass mixture over the outside of the eye fillet and set aside for 10 minutes.
Heat a medium frypan with 2 tablespoons oil. Sear the outside of the beef fillet until well browned. Remove from the pan and transfer to the freezer for 20 minutes, until firm enough to slice.
Slice the beef into 3mm thick slices and place into the Nuoc Mam Marinade and set aside for 5 minutes. Remove beef slices from marinade and set aside.
For the Pickled Carrots and Radish, place water, vinegar, sugar and salt into a bowl and mix until sugar and salt have dissolved.
Add the carrot and radish and set aside to pickle for 30 minutes. Drain well to serve.
To serve, pipe a 3mm layer of Vietnamese Mayonnaise Butter into the cavities of the Danishes. Pipe a 2mm layer of mushroom pate over the top. Top with some slices of lemongrass beef then cucumber, pickled carrot and pickled radish. Garnish with spring onion, coriander and a few slices of chilli.