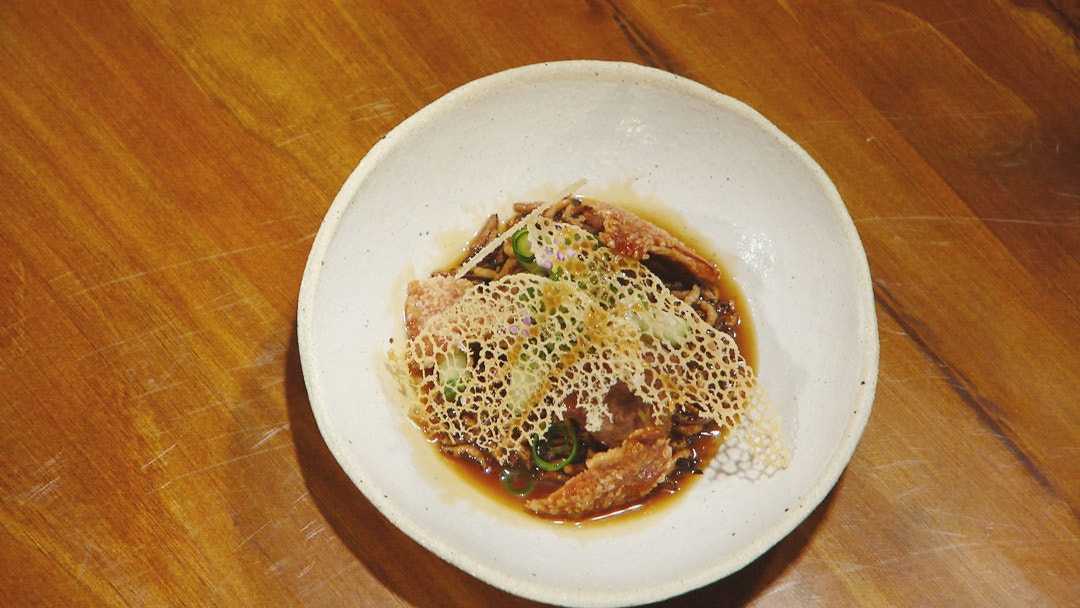 Ingredients
Pork Belly with Kecap Sauce
Steps
Preheat oven to 210C.
For the Pork Belly, remove skin from the pork belly and set aside. Cut the belly into 5cm cubes and place into a pressure cooker. Add remaining ingredients (except the butter) and cook on high pressure for 40 minutes. Remove pork and set aside. Transfer 500ml cooking liquid into a small saucepan.
⦁For the Kecap Sauce, place the cooking liquid onto medium heat and simmer until reduced by half. Remove from the heat and pass through a fine sieve, whisk in the butter and set aside in a jug in a warm place.
For the Crackling, cut skin into 4 equal strips. Score each piece with a knife and sprinkle with salt. Place onto a lined baking tray. Cover with baking paper and then another tray.
Cook in the oven until crisp, about 25-30 minutes. Remove the top tray and baking paper and cook for a further 2 minutes to puff. Remove from oven and allow to cool.
For the Puffed Wild Rice, place oil into a saucepan and heat to 180C. Add rice and stir until puffed. Remove from the oil and place onto paper towel. Season with salt while hot.
For the Savoury Tuille, place a small non-stick pan over high heat.
Place water, 30g oil, flour and salt into a squeeze bottle and shake until smooth and combined. Add 1 tablespoon oil to the pan then squeeze mixture into the oil, turning the pan until mixture thins out into a large circle. Cook until mixture crisps. Remove from the pan and set aside on paper towel. Repeat with remaining mixture.
To serve, place the pork belly into the centre of each bowl. Surround with the puffed wild rice. Mound the crackling over the pork belly. Place shredded spring onion and garlic flowers on top. Place some tuille over the top and drizzle sauce around the dishes.