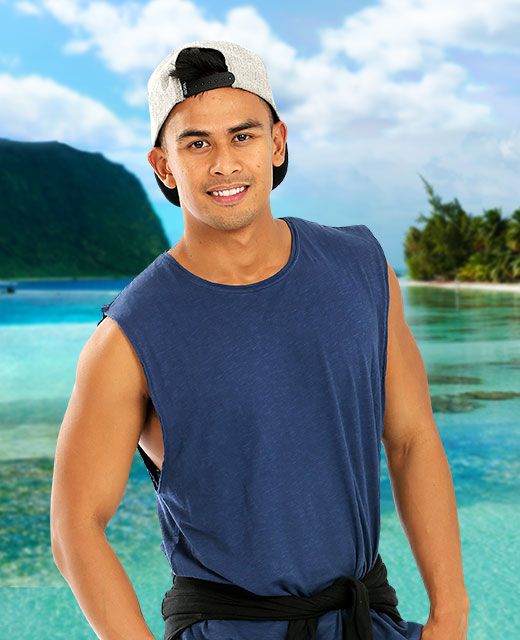 Jericho
Age: 25
Occupation: Flight Attendant
State: Victoria
Tribe: Asatoa
From the Philippines to Auckland and now Melbourne, Jericho is used to being the new kid in town. But instead of letting his guard down quickly, on Australian Survivor he will be pretending to be someone else entirely.
"It's been my childhood dream to play the game and to become another person. It is not my normal way of behaving so I can be anyone out there. I will make up a life and say I am three years younger, just for the sake of it," he said.
"I watched last year's series and I liked some of the contenders but they weren't given enough room to strike. They were playing with people who do not get the game so they left early. That won't happen to me."
Jericho is not afraid to show his darker competitive side when it comes to the game.
"I don't want to play safe, I want to play risky. I want to be the sole survivor and to experience it all. Just being called up is an enormous bonus to my life, I am so excited. It's already one of the greatest achievements in my life."
After studying anthropology, Jericho followed his dream of becoming a flight attendant. Starting as a cabin cleaner and working his way up the ranks, he now works for a major airline, flying internationally.
A mega-fan of Survivor, Jericho has his game plan mapped out but is also enjoying every moment in the lead up to setting foot on the island.
"There will be people who think they are the alpha male or the strategist of the whole game. My plan is to fuel those egos. I will keep feeding it until they let their guard down, then I will strike," he said.
"I'm just enjoying every moment of this adventure – from intensifying my exercise, the joy of playing the game and to the lead up of simply listening to music, hanging with my family and friends because I know it is going to be very isolated over there. I'm ready though."
Jericho was also seen in Season 5 (All Stars) of Australian Survivor.